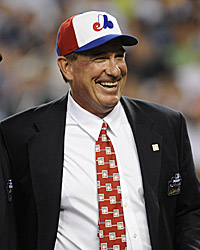 By Matt Snyder
The news keeps getting worse for Hall of Fame catcher Gary Carter. Last week, it was revealed that Carter had a brain tumor that was likely malignant. Doctors reportedly have discovered four tumors in Carter's brain in an MRI. Now, Carter's daughter -- Kimmy Bloemers -- has stated removing the tumor via surgery isn't an option.
"Dad's tumor is not operable, as it is like a snake of tumors that are connected across the back of the brain," Bloemers wrote. "The biggest tumor is on the left side of the brain." (
Montreal Gazette
)
There is, however, still some hope for good news, as Carter's tumor is thought to be Grade 4 glioblastoma, but it's not yet 100 percent certain that's exactly what Carter has.
"We will find the absolute/definite prognosis on Tuesday, so we are hanging tight for possibly other news," Bloemers said, though she did say the doctors are "99 percent" sure that's what he has.
Carter, 57, was an 11-time All-Star for the Expos and
Mets
. He hit 324 home runs and drove home 1,225 in his 19 season. He won three Gold Gloves and was a member of the World Series-winning 1986 New York Mets. He was elected in to the Hall of Fame in 2003, his sixth year on the ballot, and was the first player to be enshrined with an Expos cap.
For more baseball news, rumors and analysis, follow @cbssportsmlb on Twitter or subscribe to the RSS feed.