By C. Trent Rosecrans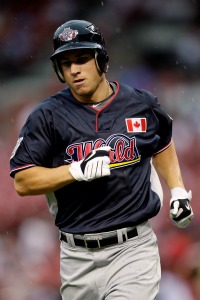 Don't be surprised if Blue Jays top prospect Brett Lawrie is in Toronto soon.
With June 1 coming soon and perhaps the ability to dodge giving Lawrie Super Two status (if it still exists when he's eligible), Toronto manager John Farrell said he's not sure what else Lawrie has to prove at Triple-A.
Lawrie, acquired for Shaun Marcum in the offseason, is hitting .354/.413/.677 overall at Las Vegas, with 15 home runsa nd 49 RBI. Oh, he's also stolen 11 bases.
Lawrie has made 12 errors at his new position, third base, but seven of those errors came in his first 12 games, while he's had just five in his last 39. Of those five errors, one was a fielding error and four were throwing errors, which Farrell said weren't his fault.
"Two of those throwing errors were made throwing into a 30-mph wind," Farrell told QMI Agency. "He really doesn't have anything left to prove. We've asked him to address some things and he's gone out and done them. He just keeps getting better."
The Jays asked him to work on his pitch selection -- in 101 plate appearances in April, he walked four times and struck out 23 times. In 144 plate appearances in May, he's walked 14 times and struck out 17 times -- while hitting .349/.418/.750 with 11 homers.
With the way Lawrie is hitting, there's little reason not to call him up -- especially with Toronto third basemen entering Monday hitting .173/.226/.269 this season.
For more baseball news, rumors and analysis, follow @cbssportsmlb on Twitter or subscribe to the RSS feed.