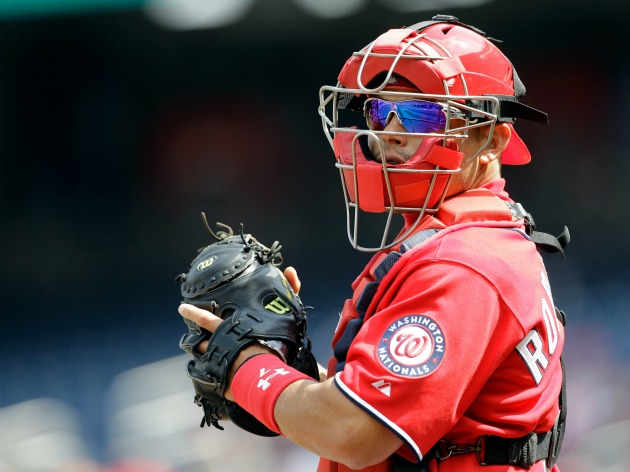 By C. Trent Rosecrans
As soon as
Buster Posey
went down last week, Twitter had
Ivan Rodriguez
headed to San Francisco.
It's not going to be that easy, Nationals general manager Mike Rizzo said.
Although the Nationals seem to have a surplus of catchers, they're not going to let the future Hall of Famer go cheap.
"To move him, it would have to be a good deal that helps us long term, not a quick fix trade for offense to get us to the time when Ryan Zimmerman is back," Rizzo told the Washington Post. "Pudge would be a big piece for a contending team if they need a catcher."
Although Rodriguez is hitting just .211/.259/.342 and is now the backup for rookie Wilson Ramos, Rodriguez is still a good defensive catcher and a good leader in the clubhouse.
"We still need him here," Rizzo said. "His value to us has only risen since he got here and especially this year. The way he's worked with Wilson Ramos, he's proved it's not show or B.S. He's embraced the city of Washington. He wants to stay here. Sp, somebody would have to come up with a piece that would help us in our long-term future."
Rodriguez, 39, is in the final year of a two-year contract that pays him $3 million this season.
Although the Giants could use another catcher, even if it's to back up Eli Whiteside, selling Rodriguez now wouldn't make a lot of sense for the Nationals. As the season goes along, there will be more teams that need a catcher, and with Rodriguez' resume, his recent performance at the plate won't hinder his trade value.

Another reason to wait is that the Nationals' best catcher prosepct, Derek Norris, is struggling with the bat at Double-A, where he's hitting just .231/.383/.484.

For more baseball news, rumors and analysis, follow @cbssportsmlb on Twitter or subscribe to the RSS feed.