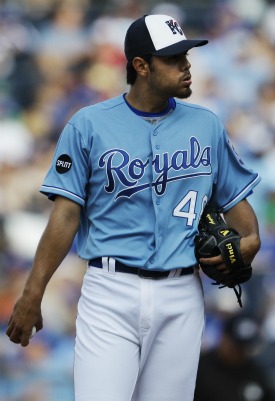 By C. Trent Rosecrans
After Sunday's Joakim Soria meltdown, manager Ned Yost calmly answered questions about his embattled closer.
No, he wouldn't replace him. Yes, if the Royals were in a save situation in the ninth on Monday, he'd call on Soria. In fact, Yost said, the worst thing he could do at that point was pull Soria from the closer's role.
Well, on Monday Soria got another shot to close out a game with the Royals leading the Angels 8-7. He struck out the first batter he faced. Then Bobby Abreu singled and on an 0-2 count, Torii Hunter gave the Angels the lead with a homer to left. Soria allowed another run on two more hits before finishing the inning. It was his fifth blown save in 12 chances this season. Last season he converted 43 of 46 save opportunities.
"Last night I asked for another chance and if I blew another save, I'd need a break, and that happened," Soria said.
Shortly after the Royals' 10-8 loss, the Royals announced the next time there was a save situation, rookie Aaron Crow will get the call.
Crow, a first-round pick by the Royals in 2009, has spent most of his career as a starter, but has been a reliever this season -- and he's been excellent. In 22 appearances, he's pitched 27 innings, allowed 19 hits and four runs, while striking out 26 and walking nine. He's 2-0 with a 1.33 ERA and a 1.037 WHIP. He has a 2.91 xFIP.
The 24-year-old right-hander throws in the mid-90s, but it's his slider that has been his best pitch so far this season.
For more baseball news, rumors and analysis, follow @cbssportsmlb on Twitter or subscribe to the RSS feed.