By C. Trent Rosecrans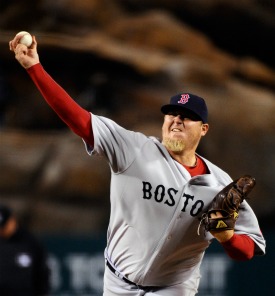 Bobby Jenks may face his old team tomorrow, as the former White Sox closer is expected to be activated from the disabled list by the Red Sox on Tuesday.
Jenks was at Fenway Park on Monday, but declined to speak to reporters from Boston or Chicago, according to the Providence Journal.
Jenks made a rehab appearance Sunday in Pawtucket, pitching one inning and allowing a hit and a run. He hit as high as 96 on the radar gun in his second rehab appearance at Triple-A Pawtucket.
"All indications are that it's a good thing he went because he shook a little rust off, even by his own opinion," Boston manager Terry Francona said.
The two Sox teams are meeting for the first time this season, and Jenks is playing against the team he helped to a World Series title in 2005 for the first time in his career. Jenks served as the team's closer from the end of 2005 until last season, when he lost the job midseason. The team then non-tendered him instead of offering him arbitration, so he signed with the Red Sox as a free agent to set up Boston closer Jonathan Papelbon.
Jenks was a long-time problem child with the White Sox, but once he left he went out burning bridges, criticizing White Sox manager Ozzie Guillen, saying Guillen was a problem for the franchise.
Guillen fired back, saying he lied for Jenks, protected him and gave him days off to babysit his kids. He also added the White Sox wouldn't miss Jenks and none of his former teammates would miss him either.
Guillen's son, Oney, also ripped Jenks on Twitter, which of course had Jenks firing back.
This week, though, things are much quieter. Francona called Guillen last week to suggest neither side talk about the incident leading up to this week.
"I appreciated that," Guillen said Sunday, according to the Chicago Tribune. "It was getting to the point where we weren't being nice guys. I don't think we should have the Boston organization, their players, fans and manager dealing with that.
"It will be a little different when [Jenks] comes to Chicago, but I don't think it's a big deal."
The Red Sox don't go to Chicago until July 29 for a three-game series, their only trip to U.S. Cellular Field this season.
Jenks has appeared in just 11 games for the Red Sox this season, allowing 13 hits and 10 runs (nine earned) in 8 2/3 innings. He's struck out 10 and walked nine. He's been on the disabled list with biceps tendinitis since May 5.
For more baseball news, rumors and analysis, follow @cbssportsmlb on Twitter or subscribe to the RSS feed.