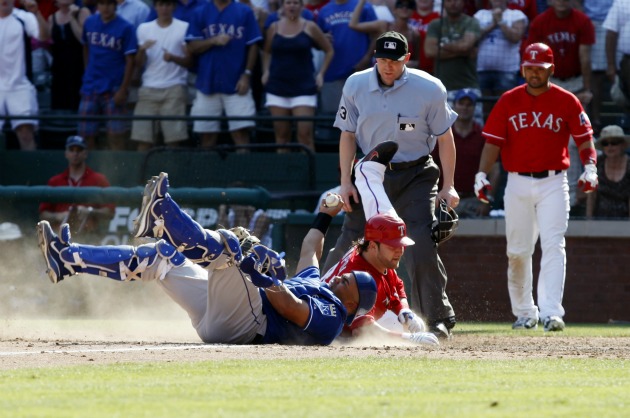 By C. Trent Rosecrans
Royals catcher Brayan Pena said he made a mistake at the end of Sunday's loss to the Rangers, but it had nothing to do with fear or Buster Posey or anything like that, it was a simple mistake of not knowing exactly where he was.
"I know you have to ask that question, but no," Pena told reporters, including the Kansas City Star's Bob Dutton, when asked if he had tried to avoid contact on the play. "That's part of my job -- to go out there and get hit. I just really thought I had home plate blocked. But I guess not."
After Nelson Cruz led off the ninth inning with a homer to tie the game, Napoli singled. And with two outs and Napoli still on first, Elvis Andrus singled to right and Rangers third base coach Dave Anderson waved him home.
First baseman Eric Hosmer's relay throw was in plenty of time to get Napoli, who was barreling in on Pena, who then took a step back off the plate, appearing to brace for impact. Napoli slid and Pena tagged him on the chest after his foot touched the plate -- and give a ton of credit to home plate umpire Mike Eastbrook, who made a difficult call correctly at the plate.
Pena slammed the ball down after the call and argued he made the tag -- and it was obvious he thought he did at the time. But then, after the game, he saw the video. See the video here.
"I could tell he was safe," Pena said. "Everything was perfect, too. The guys did a great relay. Hosmer threw a perfect strike. It was on me."
The question, even with hindsight, was there a decision on a subconscious level to take a step back, to brace himself for contact or to try to avoid being injured like Posey? If so, it's natural, but still one that's sure to be frowned up by teammates and fans alike.
As for the Rangers side of the story, remember Anderson was criticized for his decision to send Josh Hamilton home on a pop up last month, which resulted not only in an out, but in an injury to the reigning American League MVP.
"Sometimes you have to be aggressive out there and take chances," Anderson told the Fort Worth Star-Telegram. "How the game was going on, something crazy was going to happen to have this game over with. With two outs, you take a chance."
For more baseball news, rumors and analysis, follow @cbssportsmlb on Twitter or subscribe to the RSS feed.