By C. Trent Rosecrans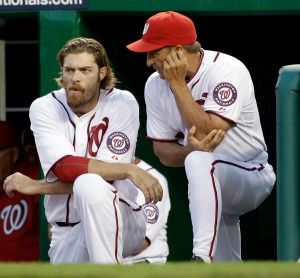 On Wednesday Nationals outfielder Jayson Werth made some interesting comments that the team needed "change." After the team's off day, he met with manager Jim Riggleman, who many interpreted to be the target of the changes Werth wanted to see in D.C.
Did Riggleman feel -- like many -- that Werth was asking for the hatchet to land on Riggleman's head?
"The short answer is no," Riggleman told reporters, including Adam Kilgore of the Washington Post. "The long answer is, you know … 'changes.' We've got to start winning ballgames. The losing that has taken place here for a couple of years, that's got to change. We've got to change some things with how we play. That's as long as I'll get on that, I guess. But to answer your question, no."
To recap: After Wednesday's 6-4 loss to the Brewers, Werth told reporters, "Things need to change."
Later he added, "I've got some ideas obviously, and some thoughts, none I really want to share with the world. I think it's pretty obvious what's going on around here."
When asked to elaborate, he said, "I'm not really going to get into it right now. It is what it is. It's unfortunate. We're a way better ballclub."
Riggleman said Werth shared some of those thoughts and ideas with him and felt it was a positive discussion.
"I'm not going to tell you what he said, but yeah, he's definitely on board," Riggleman said. "It was a really good conversation. He had some ideas. I had some ideas. I think it was a very good conversation."
Werth didn't discuss the meeting until after the Nationals' 2-1 victory over the Padres.
"What was said, however it was said, what happened from there, where it was taken from there, that's way out of my control," Werth told reporters, including Kilgore. "People put my words in my mouth, and people not even there to hear what I say, coming up with all these different things and scenarios I have nothing to do with or what I was talking about.
"Changes need to be made -- we need to start winning ballgames, we need to start hitting the ball, we need to do what we got to do to win games. That's all it was. What happened from the end of the game in Milwaukee until today had nothing to do with me. That's just people making up stories and saying things that they don't even know what they're talking about."
For more baseball news, rumors and analysis, follow @cbssportsmlb on Twitter or subscribe to the RSS feed.