By C. Trent Rosecrans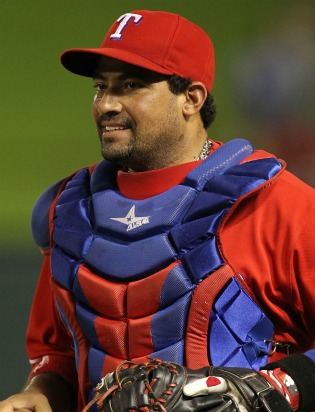 Former Giants catcher Bengie Molina tells Andrew Baggerly of the San Jose Mercury News that "heck yeah" he could put on a uniform tomorrow, but would be open to spending a couple of weeks in the minors if the Giants wanted him to return after the loss of Buster Posey.
Still, Molina noted he has yet to hear from the Giants and he doesn't expect one because of the way his tenure in San Francisco ended. Molina was not happy about the fact general manager Brian Sabean publicly said the Giants signed him to a one-year deal before the 2010 season just to serve as a bridge to Posey, and then replace him when Posey was ready.
"That tells you what a person he is, I guess," Molina said at the World Series. "He never tells me anything."
While Molina, 36, doesn't have the best relationship with Sabean, he said he "almost cried" when he saw what happened to Posey on Wednesday night.
"I was watching the game and saw where [Nate] Schierholtz was when he caught the ball. I knew it was going to be one of those plays," Molina said. "What I saw, what happened is that the ball maybe hit his hand. He didn't catch the ball. If he catches it, then he finishes turning and he finishes the tag. But he stopped turning, so he ended up in a bad position -- it's not that his positioning was bad. I would have done the same thing. But by not catching the ball, he didn't finish his turn. The same thing would've happened to me.
"It's a terrible, terrible thing. I feel so sad for him, for the team, for the fans. Our wives are friends, too. I sent him a text saying I am hopeful and praying for him."
Molina played parts of 13 seasons for the Angels, Blue Jays, Giants and Rangers, winning two Gold Gloves while with the Angels. Molina said he always feared that type of play at the plate would end his career.
"It was my biggest fear in the game -- the play you can't avoid," Molina said. "I wasn't a superstar. My knee or my shoulder, something like that happens, and I'm out of baseball."
Molina said if the Giants "are smart," they'd move Posey to first or third base, even though the Giants already have Pablo Sandoval (another converted catcher) at third and Brandon Belt at first base. Earlier this week Giants manager Bruce Bochy said he was worried about how often Posey was being hit by foul tips more often than usual.
"He's too valuable for his hitting to go through all the foul tips and the ways you get beaten up," Molina said of Posey. "Let him go like they did with Pablo [Sandoval]. Get somebody else who can help the team in catch. But that is important, too -- he is valuable to them behind the plate, too. So it is not easy. I don't know. He's just too good, man."
For more baseball news, rumors and analysis, follow @cbssportsmlb on Twitter or subscribe to the RSS feed.