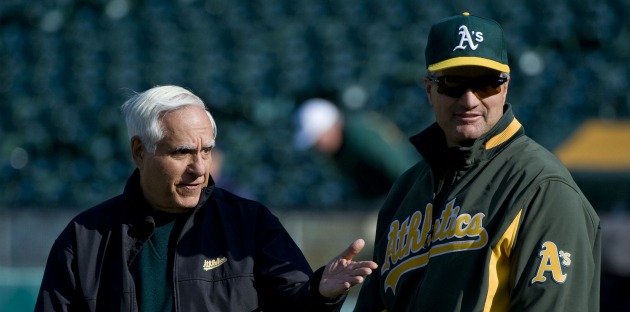 By Evan Brunell
Oakland owner Lew Wolff weighed in on the Bob Geren fiasco to MLB.com in favor of Geren, as the manager comes under fire for poor communication skills.
Wolff said that Geren has been "fantastic" and likes "the way he deals with everyone."
All due respect to Wolff, what exactly is he supposed to say? An owner should always back up his manager publicly, even if there are issues internally. It's why a vote of confidence tends to spell doom.
"I think Bob's fine, terrific," Wolff said of Geren as a manager. "It's a tough job."
One issue that has cropped up is that Geren is a close friend of GM Billy Beane, serving as best man for Beane's wedding. However, Wolff doesn't feel as if Geren's received any more of a leash thanks to his friendship, suggesting the opposite.
"Billy delayed Bob's career for reasons like that, which I thought was silly," Wolff said. "Billy's goal is to win ballgames, and he evaluates everything."
Prior to Wednesday's game, Geren called a private team meeting and refused to speak about what was discussed.
"Just a meeting to talk about the team, and that's it," Geren said. It's easy to figure out that the purpose of the meeting was to try to get everyone on the same page, clear the air with regard to communication issues and get the club focused on winning games. Whether that can be done with Geren or not remains to be seen.
For more baseball news, rumors and analysis, follow @cbssportsmlb on Twitter or subscribe to the RSS feed.