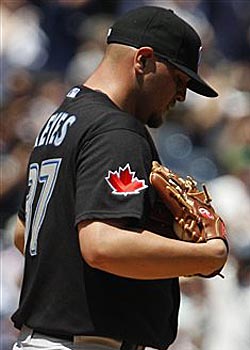 By Matt Snyder
Blue Jays
starting pitcher
Jo-Jo Reyes
entered rare air Wednesday when he took the loss against the
Yankees
. He has now gone 28 straight starts without a win, tying him for the major-league record drought with Matt Keough -- who set the record while pitching for the A's in 1978-79.
The last time Reyes went home with a "W" was June 13, 2008.
It's interesting to think about this record. By no means does it make someone the worst pitcher ever.
First of all, wins as a stat are flawed in judging pitchers, especially when it comes to small samples. Tons of factors weigh in on a pitcher's record, including defense, run support, the bullpen and the opposition. A pitcher can only control so much, which is why advanced metrics have gained steam. It isn't to absolve the pitcher of responsibility, it's to try and more accurately judge pitchers.
Secondly, if a pitcher was really one of the worst of all-time, his ballclubs would not continue to run him out there as a starting pitcher. It's arguably the most important job in a given game, so why would a manager keep a terrible pitcher in the rotation for 28 straight starts? We know the answer. He wouldn't. Reyes obviously has enough ability to convince his managers to keep him in the rotation -- especially since the Blue Jays have
Marc Rzepczynski
in the bullpen. Keep in mind, Reyes had a 4.07 ERA heading into Wednesday's start, which is by no means bad. He had a 3.06 ERA over his previous six outings. He threw seven scoreless innings against the
Astros
last time out and his bullpen blew the game.
On the other hand, Reyes isn't exactly awesome, either. We can't completely discount 28 starts without a single victory. Any good pitcher would at least luck into a handful of wins within that many starts. His career ERA is in the 6.00-range now, and he only has three quality starts in 10 tries this season. He was terrible against the Yankees Wednesday and hasn't worked past the seventh inning all season -- and if you don't want to trust anyone else, you gotta go out there and complete the thing on your own.
The next time Reyes takes the mound, he's at risk to becoming the pitcher with the longest winless streak in big-league history. That's a record no one would want, regardless of the circumstances.
For more baseball news, rumors and analysis, follow @cbssportsmlb on Twitter or subscribe to the RSS feed.