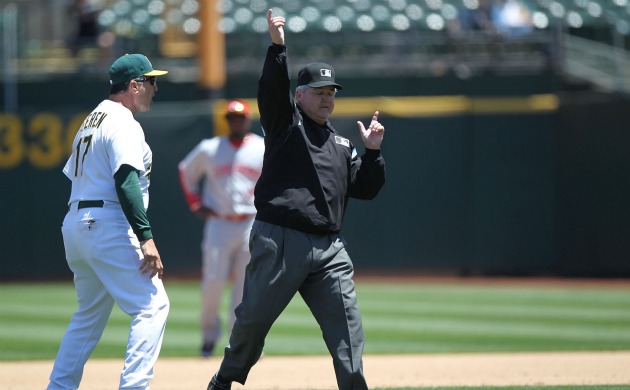 By Evan Brunell
Bob Geren has never been a favorite of players or fans in Oakland, but since he was the best man at GM Billy Beane's wedding, that apparently qualifies him to be manager of the A's. But when one of your former players calls you his "least favorite person I have ever encountered in sports," you may not be the right choice for the position.
Huston Street
was drafted by Oakland in the first round back in 2004 and spent four years with Oakland, the last two with Geren. In fact, that pairing may have been the reason why Street was traded after the year, as he has history with Geren. Street had to be separated from the manager after being pulled from a game in Detroit way back in 2008. Street would later apologize to his teammates, calling himself "selfish," as the
San Francisco Chronicle
relays.
Now closing for the
Rockies
, Street had no issues making his true feelings known after the latest fracas.
"Bob was never good at communication, and I don't want to speak for anybody else, but it was a sentiment reflected in many conversations during the two years I spent in Oakland," Street said to the
Chronicle
, "and even recently when talking to guys after I left. For me personally, he was my least favorite person I have ever encountered in sports from age 6 to 27. I am very thankful to be in a place where I can trust my manager."
As word filters out about Geren's poor communication skills (which that umpire in the photo clearly resents), one has to wonder if
my prediction that Geren was on the hot seat
coming into the season wasn't so off-base, tight bond to Beane notwithstanding.
In that piece, I argued that while Geren had never had any confrontations with players, he rankled fans with some of his tactical decisions, was seen as a mouthpiece for the front office and presided over a less-than-impressive team. Well, you can add public confrontations with players to that list now, as
Brian Fuentes
provided the fodder that has led to more relevelations of Geren's poor communication skills.
"I don't think there are any issues that way, not at all," Geren told
CBSSports.com's Scott Miller
. "I speak to about all of the players every day."
Except that as Miller outlines, that's far from the case.
Reliever
Grant Balfour
told Miller, "That's his personality. He doesn't really communicate with the players. Everyone's different. Maybe you've got to approach him," adding that Geren did not tell him he was becoming the closer after the A's demoted Fuentes from the role.
Michael Wuertz
also complained about Geren's communication skills, saying he simply doesn't tell people when they are playing, and that includes hitters, who have to look at the lineup every day to figure out what's going on instead of being told in advance, and oftentimes there will be strange benchings of a hitter who has gotten hot.
On the same road trip in which Street confronted Geren,
Mike Sweeney
fought with Geren on a team flight after a series in Kansas City as the
Chronicle
remembers. Sweeney felt it may have been his final chance to play in Kansas, a place where he was the face of the franchise for a decade. That was Geren's second year in Oakland.
His first year in 2007 saw the reigning division champions fall out of the playoffs, with players calling him "wishy-washy" and "oblivious." After the year, three coaches were fired, and one of these coaches spoke out.
"I didn't want to come back anyway," Bob Schaefer said at the time, according to the
Chronicle
, noting that he didn't feel the staff was best utilized. "I was happy they hired me, but I was happy they fired me."
Meanwhile, Beane appears as oblivious as Geren on the communication issues.
"It's a natural reaction for people who follow the team," Beane told the Chronicle of fan frustration with Geren (how about player frustration?). "All positions of leadership come with criticism. Bob knows that. I know that in my position. Ultimately, from our standpoint, the best thing is to look for a solution."
While the A's are currently two games out of first place with a 23-26 record, that reflects the lack of any other team seizing an opportunity in the West. Plus, the A's have relied on their pitching to keep them in games, and that may start changing with Tyson Ross and Brandon McCarthy on the disabled list. There's still the matter of a moribund offense and a clubhouse that's clearly fed up with Geren.
If Beane is looking for a solution, the first thing he should to do is start with the person who's in charge of leading his players.
For more baseball news, rumors and analysis, follow @cbssportsmlb on Twitter or subscribe to the RSS feed.