By Evan Brunell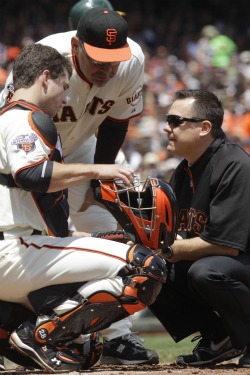 Giants manager Bruce Bochy thinks that Buster Posey has been rattled by more foul tips than almost any catcher. The Giants have quite a few pitchers who cause hitters to swing and miss, increasing the frequency of foul tips. Lately, Posey has borne the brunt of these foul tips.
On May 11, Posey took two foul balls off his mask that looked like they could have caused concussions. He sat out the next day before returning to the plate. Several days later, he took a foul ball off his thigh, continuing a season that's already seen two balls clank off his throwing shoulder. On Sunday (pictured), he was clocked in the jaw, but stayed in the game and later rifled a single to extend his hitting streak to 11 games.
"I don't know what happened; I just had a lot of pain for a few minutes and it's gone now," Posey said of the jaw shot according to the San Jose Mercury News. "It was just the jaw. My head never felt anything. I don't think I would have stayed in if I'd felt anything in my head."
It's good that Posey at least realizes that if his head was messed up, he would have left the game. But all these shots eventually take their toll, and the question has to be asked: Is Posey's best role for the club behind the plate? Someone with his offensive talent can carry the Giants for over a decade if all breaks right. Catching greatly reduces the odds of that happening given the wear and tear and chance for significant injury. The problem is that there isn't other position to stash Posey at that would make sense.
"He's taken more than I've ever seen," said Bochy, a former catcher. "He's getting enough shots that are hitting him pretty good that I've got concern."
The Giants are especially sensitive to the issue of foul tips, given Mike Matheny's career was curtailed by foul tips causing a concussion in 2006. Matheny had signed with the team as a free agent in 2005 on a three-year deal, winning the Gold Glove in '05, his fourth career award. He did not finish the contract.
Posey, for his part, is shrugging off concerns.
"Since I have been catching, it seems like you kind of go through periods where you just get beat up a little bit," Posey said. "And then there are periods where you don't get beat up at all. It's just one of those things that you go through."
Bochy is hoping the solution lies in the traditional catcher's mask, which Posey eschews for the hockey-style mask that is common in baseball these days.
"He's never worn the other mask, and I was talking to him during the course of the game, that maybe in spring training we can make that transition," Bochy said.
Despite Bochy's thoughts, it's unclear on whether the old mask would be more effective than the new one in preventing concussions.
"I think more than anything, it's just the feel of it," Bochy said. "The hockey mask clings a little bit closer and there's probably a little more sense of security with the protection on the side. If you're not used to it, there's a transition to a different mask."
Posey, for his part, says he'll give it a go if Bochy really wants him to, but he's not expecting a major difference, nor does he want to make a switch in-season.
"Everything trainers and doctors have told me is that shock absorption is equal on both styles of masks," he said. "I'd be open to it, but I think it'd be something I'd wait to do until next spring training."
For more baseball news, rumors and analysis, follow @cbssportsmlb on Twitter or subscribe to the RSS feed.