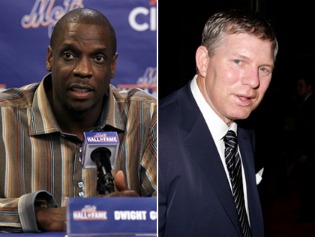 By Evan Brunell
Stories about Lenny Dykstra are getting crazier and crazier.
"Dykstra came to visit me on 'Celebrity Rehab,'" former
Mets
great Dwight Gooden told WFAN's Boomer & Carton on Tuesday according to
CBS New York
. "I'll tell you what, it was crazy. He thought that I had been hypnotized and [Dr. Drew Pinksy] got me in there and was holding me hostage. He tried to come in with two guys to get me out of there."
Gooden is one of the bigger names appearing on 'Celebrity Rehab' season five, which will air sometime in the fall of 2011 or winter. He will be joined by a cast that includes Michael Lohan, father of Lindsay.
"So they come in. I'm talking to him, he wanted to talk, 'Doc, I don't like this,'" Gooden recalled." So we go out on the patio, me and him and the two guys are sitting there, we're talking.
"He said, 'you sure this is what you want?' I go 'yeah.' He goes, 'I don't know, I don't feel good about this … let me take your bags and if you don't like it, you call me.' I was like, 'trust me, I'm cool.'
"This is not part of the show. This is real stuff," Gooden continued. "Whether they got it [on video] or not, I'm not sure."
Dykstra has made headlines recently for, in short, acting like Charlie Sheen. Dykstra was
bailed out of jail by Sheen
when Dykstra was jailed for
bankruptcy charges
. Nails had previously admitted
using performance-enhancing drugs
, saying he was "like a pioneer for that stuff." He was also in the news last month for
asking a prospective housekeeper to give him a massage
while he was buck naked.
For more baseball news, rumors and analysis, follow @cbssportsmlb on Twitter or subscribe to the RSS feed.