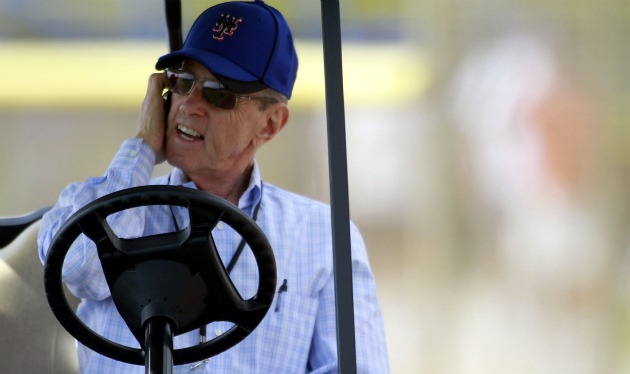 By Evan Brunell
Fred Wilpon is certainly making the rounds in the media lately.
A day after
talking to the New Yorker
and blasting players
Carlos Beltran
,
Jose Reyes
and
David Wright
, there is news that Wilpon spoke to
Sports Illustrated
and revealed the
Mets
are on track to lose up to $70 million,
MLB.com
is reporting.
The Mets are "bleeding cash," as Wilpon says, and also notes that he should have a minority owner in place to purchase shares of the club for a price around $200 million, which would give the Mets funds to stay afloat, plus provide a cushion while the Bernie Madoff fallout is sorted out.
Speaking of Madoff, Wilpon admits he would be willing to settle a $1 billion lawsuit against him for an alledged role in Madoff's Ponzi scheme -- an allegation Wilpon steadfastly declines. Trustee Irving Picard is alleging that Wilpon knew that something was amiss with Madoff but did not take action.
A press release from
Sports Illustrated
reveals more on the matter, with Wilpon saying that Picard's lawsuit is what spurred him to seek a minority owner.
"I think the club became in jeopardy when [Picard] filed [for] this billion dollars. That's when I decided to sell part of the club and maintain control in our operations and share the partnership with somebody," Wilpon said.
Wilpon added that he would be willing to discuss reparations of $295 million in fictitious profits, but cannot pay back the $700 million in principal that Picard also wants.
"Governor [Marino] Cuomo has not been able to at this stage convince [Picard] that the 700 is not going to be obtainable," Wilpon says, referring to the former New York governor who has been appointed as mediator between the two parties to try to facilitate an agreement.
And surprise, surprise but Madoff is also connected to the Bobby Bonilla fiasco. Back in 1999, Wilpon bought Bobby Bonilla out of his $5.9 million owed for the 2000 season, instead deferring his payment to a 25-year plan starting in 2011 in which Bonilla will be paid $1.19 million annually -- a $29.8 million total. Everyone has long wondered just why, and now we know.
"You can fault us for that. The judgment, in retrospect, was not good," Wilpon said.
That judgment was that the Mets planned to invest the saved $5.9 million with Madoff and receive the usual return of 10-12 percent, while Bonilla's deferred payments were based on an interest rate of eight percent. The Mets were hoping that they could make money off of the extra $5.9 million being converted into a profit.
"We trusted a man who turned out not to be trustworthy," Wilpon added.
And if he had a face-to-face meeting with Madoff, currently in jail where he will remain for the rest of his life?
"If I saw Bernie, would I want to kick him or punch him? No, no. I've heard some people say, 'that son of a bitch, I'd like to kill him,' " Wilpon said. That's not how I feel. I've tried to temper that because I've got to be focused on getting where we need to and putting this behind us."
For more baseball news, rumors and analysis, follow @cbssportsmlb on Twitter or subscribe to the RSS feed.