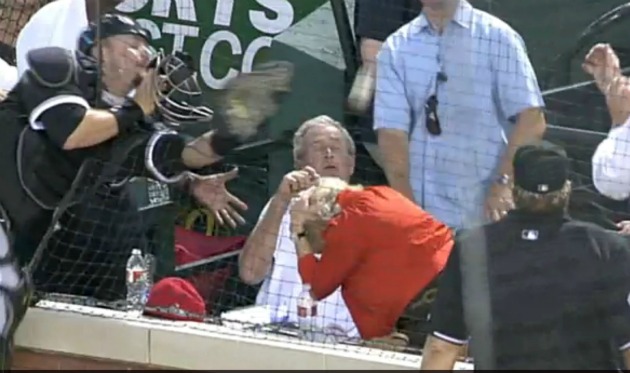 By C. Trent Rosecrans
White Sox catcher A.J. Pierzynski got up close and personal with former president George W. Bush and his wife Laura during Monday's game in Texas.
Pierzynski tracked down a sixth-inning Adrian Beltre popup that nearly hit the former president, but couldn't make the catch. He reached around the screen and nearly ended up in Bush's lap.
"I had Nolan Ryan and George W. Bush sitting within five feet of each other," Pierzynski told reporters, including Anthony Andro of the Fort Worth Star-Telegram. "I told him just 'cause he was the president doesn't mean I wouldn't jump on top of him. He and his wife got a good chuckle out of it."
Beltre ended up walking and that was followed by a two-run homer by Nelson Cruz.
Pierzynski said he knew Bush was sitting behind the plate with Ryan, the Rangers' team president and his wife.
"When I saw the ball go up, I actually thought I had a chance to catch it," Pierzynski said. "I was going to reach around. I needed about another foot and then I realized I almost jumped into the president's lap. It was funny."
For more baseball news, rumors and analysis, follow @cbssportsmlb on Twitter or subscribe to the RSS feed.