By Evan Brunell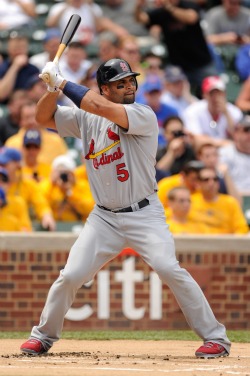 On the
personal blog
of
Baseball America
's Ben Badler, he offers up speculation that
Albert Pujols
could be injured.
On April 24, Pujols came down with what was termed "mild tightness" in his left hamstring, registering one hit in four trips to the plate after homering the previous day to bring his overall home-run total to seven. Through that date, Pujols was hitting .250/306/.500 in 98 plate appearances. Sure, the batting average wasn't there just yet, but that was going to come around.
It has creeped up, but his power has been completely sapped, as he's gone .286/.372/.327 with no homers in 113 PA. That's a striking dichotomy. Something
has
to be wrong, right? Badler:
Pujols strides with his left leg (duh). Normally, Pujols plants and stiffens his front leg, which is what allows the hips to rotate with force and generate power. Since his hamstring injury, he doesn't seem to be firming his front leg any more. When a hitter swings with a bent front leg, it means his body doesn't have a base from which to rotate forcefully, which means slower hip rotation and less power. The outcome is usually weak contact out front, which is what Pujols has been doing a heck of a lot lately from what I've seen and from what the numbers are showing.
Badler provides video evidence to back up his claims, offering up an
April 21 home run
(pre-injury) and
May 11 two-run single
. The disparity between the force powering his shots and the firing of the hips is remarkable.
Is it possible that the hamstring is bothering Pujols but he isn't saying anything about it? Given there's been no talk of any issues with Pujols to date, and the hamstring injury back in April was a mere blip on the radar, it's clear that either the
Cardinals
and Pujols feel it's a non-issue or one or both parties don't know the injury is hindering Pujols. Given the numbers and visual evidence, the guess is that it's the latter.
For if it's the former, it would be negligence on St. Louis' behalf. At this point, a two-week stint on the disabled list would be best for all parties. St. Louis would be able to get
Jon Jay
or
Allen Craig
into the lineup every day, and Pujols could get some time off to rest his hamstring and come back strong.
For more baseball news, rumors and analysis, follow @cbssportsmlb on Twitter or subscribe to the RSS feed.