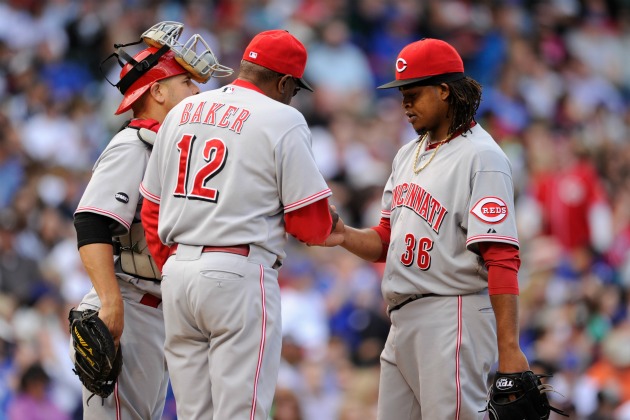 By C. Trent Rosecrans
Edinson Volquez, the Reds' opening day starter, is now a Louisville Bat. The Reds optioned Volquez and reliever Jordan Smith to Triple-A Louisville before Monday's game with the Phillies.
Volquez gave up seven runs (six earned) in 2 2/3 innings and has struggled mightily in the first inning this year, allowing 21 first-inning runs in 11 starts. Overall, he's 3-2 with a 6.35 ERA and a 4.16 xFIP, suggesting he's been better than he's pitched. In 51 innings, he's recorded 53 strikeouts but also 38 walks to go along with his 47 hits. He's also given up nine homers, including one to Asdrubal Cabrera on Sunday.
However, his greater sin may have been with his mouth, not his right arm. After the Reds' 12-4 loss to the Indians, Volquez called out the team's offense, which is second in the National League in runs scored.
"Everybody has to step up, score some runs," Volquez told reporters after the game. "In the last five games, how many runs have we scored? Like 13? That's not the way we were playing last year. We're better than that."
It was actually 12 runs in the last five games, which saw the Reds go 1-4, including four straight losses. But Volquez, who hasn't pitched more than six innings this season, is hardly the one to talk about a lack of run support. The Reds have scored 53 runs in his 11 starts -- nearly five an outing -- and the offense is why he has a winning record. The Reds have trailed in each of his 11 starts, with the offense picking him up to win six of those games.
The Reds acquired Volquez (along with left-handed reliever Daniel Ray Herrera) after the 2007 season from the Rangers in exchange for Josh Hamilton. With the Rangers, Volquez was seen as something of a problem child, being sent down from the majors to Class A Bakersfield to work his way back to the big leagues. However, he responded well and made his way back, before the Rangers traded him for the future MVP.
As well as Hamilton played with the Rangers, there was early debate over which side got the better of the deal as Volquez made the All Star team in his first season with the Reds, going 7-1 with a 1.33 ERA in his first nine starts in Cincinnati. He finished the season 17-6 with a 3.21 ERA but struggled in 2009 before undergoing Tommy John surgery.
Last season he served a 50-game suspension for use of performance-enhancing drugs but didn't miss any time because he was able to serve his suspension during his rehab, making his debut on July 17. Voqluez finished the season with mixed results, going 4-3 with a 4.31 ERA. He started Game 1 of the National League Division Series against the Phillies but was knocked out after 1 2/3 innings while his opposite, Roy Halladay, pitched a no-hitter.
It will be interesting to see if Volquez gets the message again this time, or if he goes off and blames someone else (again). The Reds' brass will certainly be watching how he reacts in Louisville, but it should be noted that Volquez is being placed into the hands of some of the Reds' most trusted employees: Louisville manager Rick Sweet and pitching coach Ted Power. Both are well-respected by the team and well liked by most everyone, including players. If Sweet and Power can't handle Volquez and his talented arm, the Reds may have a bigger problem on their hands.
Volquez has always had ace-like stuff, but his head has often gotten in the way of him breaking through to become a real No. 1.
While the Reds' have certainly been on the losing end of the trade with the Rangers, they may have gotten lucky with Volquez this offseason. Volquez was arbitration-eligible for the first time this winter, and the team offered him a deal to buy out the rest of his arbitration years. Instead, he signed a one-year deal worth $1.625 million and gambled that he'd have a good year and get a better deal from Cincinnati later on. Right now, it appears that won't be coming anytime soon, and the Reds may have saved themselves some money.

Coming up is Maloney, who will likely replace him in the rotation. Maloney appeared in five games for the Reds this year, making one start, lasting just two innings while giving up eight hits and three runs in two innings against the Cardinals -- although that was hardly a regular start. Maloney was the starter of record, even though Volquez warmed up and was the scheduled starter. After a two-hour rain delay, Volquez was scratched before he threw a pitch, and Maloney was the starter of record. Last season, Maloney was 0-2 with a 3.09 ERA in two starts and 2-2 with a 3.05 ERA overall.

Frazier was the team's top prospect in 2010 before it signed Aroldis Chapman, but he struggled last season and saw his ranking drop. He can play all over the infield and has also played the outfield. He's hitting .293/.366/.579 with 11 homers at Louisville.
For more baseball news, rumors and analysis, follow @cbssportsmlb on Twitter or subscribe to the RSS feed.