By Evan Brunell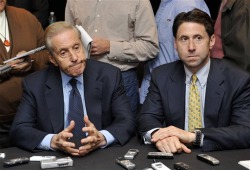 Earlier Monday,
Mets
owner
Fred Wilpon ripped several players
in an article that ran in the
New Yorker
. Granted, those quotes were made in April while the Mets were busy being a mess, but that doesn't excuse Wilpon, who said third baseman
David Wright
, the face of the franchise, was a good player but not a superstar. Could have surprised the fanbase, as Wright has been marketed as a superstar to attract fans to the park.
He also called himself a schmuck for being suckered into
Carlos Beltran
's massive contract following his 2004 explosion in the postseason, as well as saying there was no way
Jose Reyes
would sniff a contract like
Carl Crawford
's seven-year, $142 million pact.
Wright chose to take the high road, declining to get into a tit-for-tat argument.
"Fred is a good man and is obviously going through some difficult times," he said in an e-mail to the
New York Daily News
. There is nothing more productive that I can say at this point."
The
Daily News
adds that while Reyes is aware of the comments, he was "not bothered" and that his agents will not be commenting on the story. Carlos Beltran's agent, meanwhile, had different ideas. Scott Boras lashed out, saying he was surprised with the comments.
"These statements are not indicative of the Fred Wilpon I know," Boras told the
New York Post
. Boras produced Beltran's statistics on the year, currently at .280/.377/.533 to dispute Wilpon's contention that the center fielder-turned-right fielder was "60 to 70 percent of what he once was." Again, Wilpon made these comments in April, when no one knew what to expect from Beltran as he moved to a new position to avoid wear and tear on the knees, plus was coming off an uninspiring 2010. But Boras also said, rightly so, that he didn't feel as if these comments should have been made.
"If you're a member of a team or an organization and respect one another, any evaluation or internal opinion of players currently on the team should stay there," he said. "If you want success and optimal performance, it's best to keep those in-house."
All this has led to uncertainty about Beltran's future in the city post-2011, as he is an impending free agent. Wilpon may not agree to bring him back, or Beltran may not be interested.
"Carlos enjoys being a Met and is excited by how well he's doing," Boras said. "I have always had a good relationship with Jeff [Fred's son, on the right in the photo, with Fred] and Fred. It's up to the individual player to look at the context of the statements discussed and come up with their own opinion."
One Met -- who probably doesn't make enough to enter Wilpon's radar -- had a suggestion for the team's owner.
"Sometimes people say things they regret," pitcher
Mike Pelfrey
told the New York Times
. "It's a mistake and you learn from it. Maybe next spring when we have our media workshop for the players, Fred can come and sit in on it."
For more baseball news, rumors and analysis, follow @cbssportsmlb on Twitter or subscribe to the RSS feed.