By Evan Brunell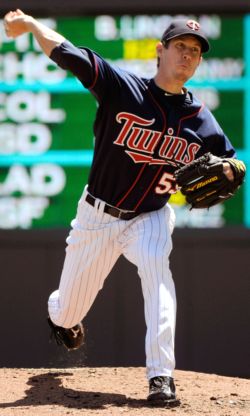 Kevin Slowey
is not long for the
Twins
, as it appears both pitcher and team agree on one thing: it's time to move on.
Slowey hasn't been terrible, nor has he been openly agitating to be traded. Rather, this is an instance of both sides realizing the fit may be gone. Minnesota converted Slowey to relief this offseason, choosing to go with a rotation of
Carl Pavano
,
Francisco Liriano
,
Nick Blackburn
,
Brian Duensing
and
Scott Baker
. One could easily make a case that Slowey deserves to be in the rotation over any of the latter three players. But the bottom line is that the Twins disagree, and the conversion to relief has not gone as planned for Slowey after starting his career with 82 starts, four relief appearances, a 4.41 ERA, 6.9 K/9 and sterling 1.5 BB/9. The 27-year-old isn't an ace, but he is absolutely someone that can soak up innings in the middle of the rotation, and that's something many teams would love to have.
"I honestly think the right thing [is to let Slowey start somewhere], and that's what we're trying to talk about now," Twins manager Ron Gardenhire said on ESPN 1500 via the
Minneapolis StarTribune
. "We talked with Kevin, we're going to talk with Billy [Smith, Twins GM] when we get home and try to figure out the right thing for Kevin to make sure he keeps his arm in good shape and all those things."
Slowey is currently hobbled by a stomach ailment that will be looked at this week. Assuming all is clear, he'll be demoted to Triple-A to become a starter, although that's not quite the location Gardenhire is envisioning. Slowey, too, believes there's a chance he will be traded.
"I understand our situation here," he said. "I understand the starters we have here, and I understand that, even given past successes as a starter, this might not be the right fit for me anymore."
Compounding the problem of freezing Slowey out of the rotation is his inability to transition to the bullpen. Slowey has struggled in the conversion, needing extended time to warm up and posting a 4.91 ERA in 14 2/3 innings. While his walk rate is even lower than his career marks, his strikeout rates have dipped significantly as well. Of course, you can't glean too much information from just 14 2/3 innings, especially since Slowey has already hit the disabled list with bursitis in his right shoulder. However, it's obvious Slowey hasn't been able to adjust to his new role -- which Gardenhire says has affected the bullpen as a whole. The bullpen currently is 28th in baseball with a bullpen ERA of 5.33
"I can't adapt," Gardenhire said. "He has to adapt as a player. I can't say [someone] is going to get knocked out in the third, so you start throwing in the third so I can have you ready for the fifth because you need that much time. I can't manage like that.
"And he told me [Saturday] he is having a hard time and doesn't think he can do it."
There are plenty of teams that would love to add Slowey to their rotation. You have the typical rebuilding clubs that could use a shot in the arm, such as the
Pirates
,
Diamondbacks
and
Mets
. But you also have contending clubs -- both small- and big-market -- that could use his services. The
Athletics
,
Cardinals
,
Yankees
and
Red Sox
spring to mind, and there are no shortage of other suitors.
It won't be difficult for the Twins to find a trade partner. What will be difficult, and will prove the hangup in any trade, is what Minnesota will get back for Slowey. His trade value has been killed by an unsuccessful transition to the bullpen, an injury and now admissions from both sides that a trade may be for the best. That will hamper the quality of names the Twins are offered, and they won't move Slowey until those names improve. That could mean that a few more weeks may have to go by for Slowey to prove in Triple-A he's ready to start, and for teams to grow more desperate. Of course, it's hard to get any more desperate than a team like Oakland.
For more baseball news, rumors and analysis, follow @cbssportsmlb on Twitter or subscribe to the RSS feed.