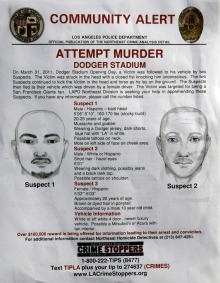 By C. Trent Rosecrans
Giovanni Ramirez has been arrested and for assault with a deadly weapon and is being held on $1 million bond in the opening day beating of
Giants
fan Bryan Stow.
The Los Angeles police department also noted they are on the trail of the second man accused of beating Stow, as well as the woman that drove both of them from the scene.
A Los Angeles Police Department SWAT team apprehended a man at about 7 a.m. this morning. Police used loudspeakers and had their guns drawn, calling out to the occupants of Apartment 25 of a three-story apartment building in East Hollywood.
Ramirez, 31, has at least three prior convictions. He was convicted of attempted robbery in 1998, robbery in 1999 and firing a weapon in a public place, according to the Los Angeles Times.
The Times reports a parole agent called LAPD about his suspicion that a parolee under his watch matched the description of one of the suspects. Ramirez reportedly had fresh tattoos on his neck in an apparent attempt to cover a tattoo which had been identified by witnesses to the beating.

The Giants have released a statement about the news:
"Today's arrest in the Bryan Stow case is welcome news in what has been a very difficult time for the Stow family. We commend the Los Angeles Police Department for their hard work and we are confident that they will continue to dedicate themselves until all of those responsible for this senseless act of violence have been brought to justice. Our thoughts and prayers remain with Bryan Stow and his family and we thank the community for its tremendous support for the Stow family during this difficult time."
Dodgers
owner Frank McCourt has also issued a statement:
"First and foremost, our thoughts today are with Bryan Stow and his family and we hope that this announcement brings them a small measure of relief in what has been an extremely difficult time in their lives.

On behalf of the Dodger organization and our fans, I want to extend our most sincere appreciation and 'thank you' to Chief Charlie Beck and the men and women of the Los Angeles Police Department. From the outset, the Chief made an unwavering commitment to do everything possible to find and apprehend the suspects in the brutal and cowardly attack that took place against Mr. Stow on Opening Day.

From that point forward, I gave my word to Chief Beck that he would have the full support of everyone at the Dodgers and we have worked in close partnership with the LAPD on this matter. We pledge our continued cooperation with law enforcement authorities during the prosecution phase that will ensue.

The Dodgers are committed to providing our fans the safest sports venue in the United States – this is a commitment that we take very seriously.

Chief Beck, thank you for using every available LAPD resource to find and arrest this suspect, who will now be brought to justice."
For more baseball news, rumors and analysis, follow @cbssportsmlb on Twitter or subscribe to the RSS feed.