By Evan Brunell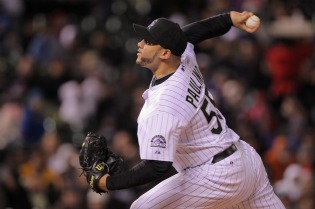 The
Rockies
have designated
Felipe Paulino
for assignment and recalled starter Greg Reynolds, the
Denver Post
reports via Twitter.
Paulino was acquired in the offseason from Houston in exchange for shortstop
Clint Barmes
. While Barmes isn't quite hitting (nice OBP, though), he's doing just fine with his glove in Houston, so the Rockies can be deemed losers of this trade. Paulino predominantly started for Houston over the course of three seasons from 2007-2010, with 2008 skipped. But his career 5.83 ERA ushered him out the door, as Paulino could strike players out but gave up too many walks.
And much like the Rockies just jettisoned another player like that in
Franklin Morales
(traded to
Red Sox
), Colorado has quickly given up on these players. So Paulino only pitched 14 2/3 innings in Colorado, but they were bad innings, with a 7.36 ERA and the same stuff and lack of control of it. However, 45.5 percent of Paulino's batted balls allowed fell for hits - way over the pitching standard of 30 percent. That means Paulino was unlucky, which leads to a 3.37 xFIP. Ahh, that's much better.
All that to say that Paulino will get picked up somewhere. Either he'll be claimed on waivers, traded by Colorado and released, only to quickly latch on to another club. Oakland jumps to mind here, as they're currently trying to find the right mix in the bullpen and need temporary starters quickly? Paulino could fill the breach in the rotation in the interim, and always move back to the bullpen. In a pitcher's park, Paulino could both regress to the mean plus go past it, to his benefit. That would make Paulino a real find -- but there's no guarantee it happens, as Paulino's been hit very hard with a high line-drive rate and home run per flyball rate that could negate the issue with Paulino's BABIP.
Paulino's replacement in Reynolds made two starts earlier this year, giving up four runs in 11 innings. Down on the farm, he's made six starts with a 6.29 ERA, although he's terribly unlucky as he has a 3.70 FIP.
The Post
speculates that Reynolds will probably start one of the games Tuesday then be sent down for a reliever or start Saturday. It's also possible that he could fill the long man's role in Colorado. We don't know quite yet what the Rockies have in mind.
For more baseball news, rumors and analysis, follow @cbssportsmlb on Twitter or subscribe to the RSS feed.