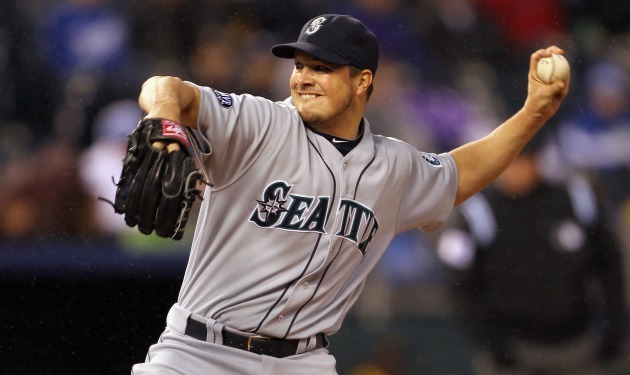 By Evan Brunell
"Very good. Very good curveball. Best i've seen him in years," a
scout told Peter Gammons
about
Erik Bedard
.
The lefty is finally looking like he's over the injury issues that have limited him to 15 starts apiece over the last two seasons; also the two seasons he's been a Mariner. Through eight starts, Bedard has a 3.94 ERA, backed up by a 3.56 FIP. He's whiffed 41 in 45 2/3 innings, walking just 17. He hasn't allowed more than two runs in each of his last four starts, zeroing out the
Padres
for eight innings Friday to drop his ERA from 5.96 on April 20 all the way to 3.94.
While nothing Bedard can do will justify the trade that saw him shipped from Baltimore for a package headlined by
Adam Jones
and
Chris Tillman
, he can still play a major influence in Seattle's surprising relevancy this year, as they are just 2 1/2 games out of the wild card chase and could be poised to make a move now that center fielder
Franklin Gutierrez
is finally back.
Gammons says that Bedard could be a major trade chip, but Seattle's proximity in the postseason race may preclude another trade. In addition, as
ESPN's Buster Olney
notes, Bedard is an impending free agent and will be one of the best starters on the market. Will Seattle want to run the risk of alienating Bedard by trading him only to ask him to return in the offseason as a free agent as it looks to take the next step forward to relevancy?
In addition, Olney wonders whether any other team will want to run the risk of Bedard being unhappy. "Bedard is viewed within the industry as an unusual personality, and he seems to have developed a nice comfort zone with the
Mariners
," Olney writes. "If Seattle was, in fact, ever willing to trade him, interested contenders would have to convince themselves that Bedard would find the same kind of a comfort zone with another team, in a rent-a-pitcher situation."
Plus, Bedard is only guaranteed $1 million with an additional $6 million in performance bonuses. That's a great deal for someone who can pitch as well as Bedard over a full season. Bedard may still be on the way out at the trade deadline, but for now what's most important is he's pitching well and staying on the field. That alone is a victory.
For more baseball news, rumors and analysis, follow @cbssportsmlb on Twitter or subscribe to the RSS feed.