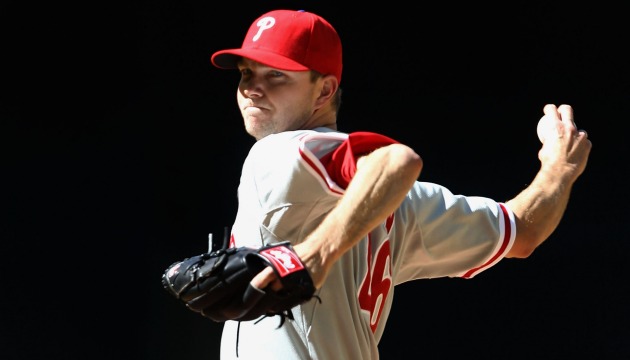 By Evan Brunell
Before being pressed into emergency closer duty when both
Brad Lidge
and Lidge's replacement in Jose Conteras went down, the closer's role was Madson's boogeyman.
From 2004-10, a span of seven seasons, Madson had an eye-popping 24 blown saves against just 20 saves, highlighted by his 0-for-7 turn in '04 and being highlighted the last two seasons with converting just 15 of 26 chances. Madson's struggles have long been odd, as his ERA over the same timespan is 3.73, dropping to 3.01 from 2007-10 and emerging as one of the game's best setup men.
Now, the 30-year-old can add vaunted closer to his resume, as he's finally dispelled the boogeyman by converting all eight save opportunities with a paltry 0.50 ERA over 18 innings on the season. His strikeout rate has spiked to a career-high and he's punched out 23 batters while walking just seven. Brad Lidge, who is hoping to return to the team in three weeks, already knows he won't replace Madson as closer. Given Lidge has yet to pitch this season, it wouldn't make sense to throw him right back in the fire as a closer. Madson's production has also eased the load on Lidge.
"Ryan's done an incredible job, and he's closing games as good as anybody in baseball," Lidge said. "I would expect whatever Charlie thinks is best for the team is what he's going to do. I'm just going to be happy to be back in the big leagues for a while. Whatever pans out is what pans out."
Even
Jose Contreras
, Lidge's replacement as closer before hitting the DL, may return to his setup role once he's ready. Contreras could be activated for Sunday or Monday's game provided his rehab outing with Double-A Reading goes well Saturday night. That's how impressive Madson has been.
"When I look at him that he's been throwing hard, but this is the best command I've ever seen him have of his change-up," manager Charlie Manuel told the
Wilmington News Journal
. "His change-up, to me, it's improved. And the location with it, he's been that good."
Madson's changeup has been a big reason for his success to date, throwing it about 30 percent of the time -- and forcing a swing-and-miss on one out of every three changeups ever since he made a mechanical tweak in mid-2010. That's a massive number. For comparison,
Mariano Rivera
's cutter gets a swing and a miss 8.1 percent of the time last season.
Craig Kimbrel
's change? 20.8 percent.
Jonathan Papelbon
's splitter comes close, but it's still no cigar, inducing 28 percent swing-and-misses.
The reason for the added success, Madson says, is a flaw with his pitching motion that Lidge noticed last season. When delivering a fastball, Madson's arm angle was further out from his head which allowed batters to pick up that it was a fastball easier. Given the effectiveness of a change wholly rests on being able to deceptively deliver it as a fastball, Madson wasn't getting the most out of his change.
Now he is. And now, Manuel doesn't seem interested in changing roles once Contereas and Lidge return. Even if Madson eventually transitions back to a setup role by season's end, he could have just made himself millions of dollars.
An impending free agent, Madson could be a hot name to become a closer for another team -- and with Scott Boras as his agent, you can bet Madson will hit free agency. Philadelphia hopes not, with GM Ruben Amaro saying that he wouldn't rule out trying to extend Madson in-season. That's a no-brainer, as Amaro should be doing everything he can right now to hang onto Madson, who could close for Philly for quite some time. Both Conteras and Lidge will be free agents as well.
Lidge, for his part, isn't sure what to expect when he returns after being diagnosed with right shoulder inflammation in spring training. He's been out so long and hasn't even pitched in a game situation yet. He's tossing a second bullpen session Saturday before heading out to extended spring training, then a rehab assignment. That puts his return to the
Phillies
sometime in mid-June. Despite that, Lidge couldn't be more pleased with how things are going.
"I'm already throwing harder than at any point this spring," Lidge said. "I wasn't really throwing hard at all this spring -- mid to upper 80s, I guess. I can already tell I'm throwing harder than that, so that's very encouraging. Beyond that, I know I've got a few outings to get the rest back on, but it's encouraging to know I'm past where I was in spring training."

For more baseball news, rumors and analysis, follow @cbssportsmlb on Twitter or subscribe to the RSS feed.