By Evan Brunell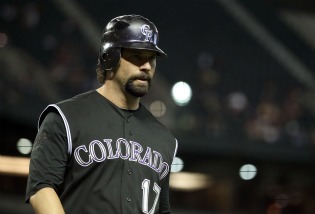 Todd Helton
will likely not play in the weekend series, due to a sore back caused by a slide into second base on Wednesday.
Helton,
despite his success at the plate
as of late, is still a 37-year-old with a bad back and a history of missing games. That'll cause Colorado to take it slow in Helton's return. Currently, swinging a bat isn't a problem but sleeping and running are.
"It stinks when you get old and don't know if something you are going to do is going to hurt your back," Helton told the Denver Post.
"Saturday is the key. I need to see how it feels when I swing. The one thing different from last time is that it hurts a little bit when I rotate. And before I play, I definitely need to be able to run."
The one piece of good news is that Helton won't undergo a MRI as the injury doesn't appear related to the back issue that felled Helton last season.
"He's much stronger than he was a year ago," head trainer Keith Dugger said. "And he has no pain radiating down his legs."
Helton compared his injury to one suffered in early April that caused him to sit out four games. He's already missed Thursday and Friday's games, so could be back as early as Monday.
For more baseball news, rumors and analysis, follow @cbssportsmlb on Twitter or subscribe to the RSS feed.