By C. Trent Rosecrans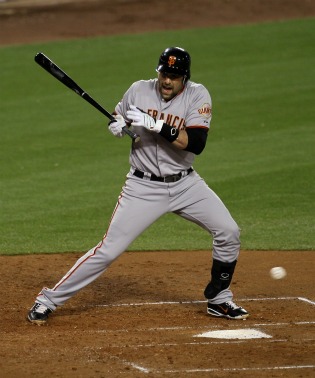 Not only has the
Giants
'
Mark DeRosa
been put on the disabled list, it's possible he may never return, he
tells Carl Steward of the San Jose Mercury News
.
"I'm not willing to concede to the fact that I can't come back," DeRosa said. "But look, I'm also cognizant to the fact that I've done some significant damage to this thing repeatedly over the last two years. So we'll wait and see."

However, he did tell Henry Schulman of the San Francisco Chronicle that he's not ready to retire, but would consider it if he couldn't play up to his expectations.
DeRosa left Wednesday night's game when he checked his swing on a pitch in the dirt from Clayton Kershaw. DeRosa immediately dropped his bat and grabbed his surgically-repaired left wrist. He told the Chronicle that it felt "like a bomb went off." An MRI confirmed a partial tear of the ECU tendon.
It's a different tendon, but in the same spot as the one that limited him to 26 games in 2010, his first season in San Francisco.
"It's a different problem. I originally tore the sheath that keeps the tendon in place and now I've partially torn the tendon that was kept in place," DeRosa said. "So I'll fly and see the surgeon in Cleveland early next week and see what my options are."
He will see the same doctor that performed surgery on his wrist last July, Dr. Thomas Graham. Graham also saw DeRosa last month when he went on the disabled list for inflammation on the wrist.
DeRosa was in an 0-for-23 slump when he left the game and said he was having trouble catching up to fastballs. He's hitting just .162/.225/.189 this season, with six hits.
"I was encouraged with the fact that I was finally able to get back to being somewhat serviceable and playing without pain for a couple weeks. But obviously, at what level? That's the thing," DeRosa said. "You're used to playing a certain way and your mind's telling you you're playing that way, but the results are telling you a different thing. I just want to make sure I'm doing the right thing and looking at every avenue before I make a decision -- what needs to be done or if anything can be done."
DeRosa signed a two-year, $12 million contract with the Giants as a free agent before the 2010 season and has never really been healthy. For the Giants, he's played in just 44 games and hit .185/.264/.238 with one home run.
For more baseball news, rumors and analysis, follow @cbssportsmlb on Twitter or subscribe to the RSS feed.