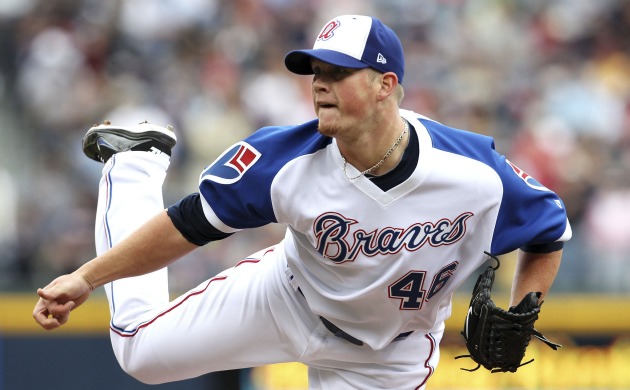 By Evan Brunell
It's not easy being a closer, as rookie
Craig Kimbrel
is finding out.
The flamethrower has blown four of his last 11 saves including Thursday night, when he gave up four consecutive singles, scoring two Arizona runs for a walkoff. With
Jonny Venters
pitching superb in a setup role, the heat is racheting up on Kimbrel.
Skipper Fredi Gonzalez refused to consider removing Kimbrel from the role, however.
"The kid [Kimbrel] gets that groundball and he's out of the inning," Gonzalez told the Atlanta Journal-Constitution, referring to a grounder Kimbrel induced and deflected on a potential inning-ending double play that Dan Uggla could not get to after the ball switched paths. Kimbrel would later blame himself after the game for not being able to make a play on the ball, as well as delivering too many hittable pitches even though two of the four singles did not leave the infield.
Gonzalez said that bullpen coach Eddie Perez says Kimbrel warms up too fast in the bullpen when it's not entirely clear when Kimbrel will enter the game.
"Eddie said he's got to relax, pace himself," Gonzalez added. "That's a learning thing. He's learning, experiencing."
Kimbrel hasn't really demanded a removal from the closer's role despite his recent struggles. He's punched out an incredible 34 batters in 21 innings, working around 10 walks and 17 hits with a 3.00 ERA. He's exactly what any manager would want as a closer. Gonzalez is lucky, then, that he has Venters as well, who is outperforming Kimbrel to date.
Venters has a minuscule 0.68 ERA while leading all pitchers with 25 appearances, pitching 26 1/3 innings while punching out 26 and walking just seven, while not allowing a home run on the season, something Kimbrel also can boast. But the lefty also has induced an impressive 85.4 percent of balls to hit the ground.
That impressive duo at the end of the bullpen has allowed Atlanta to keep pace in the NL East, where it is in third place with a 25-21 record, 2.5 games out of first place.
For more baseball news, rumors and analysis, follow @cbssportsmlb on Twitter or subscribe to the RSS feed.