By Evan Brunell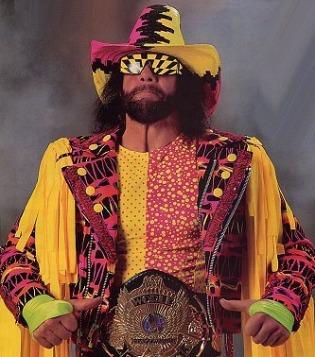 Randy Poffo, more commonly known as "Macho Man" Randy Savage of wrestling fame, passed away Friday.
TMZ was the first
to report, saying that Poffo suffered a heart attack around 9:25 a.m. while driving, causing his Jeep Wrangler to cross a concrete median, through opposing traffic and collided with a tree head-on. He was transported to a hospital, where he died from injuries. His wife of one year, Lynn, was also in the car but came away with only minor injuries. Both were wearing seatbelts and alcohol was not a factor.
It's a tragedy that will strike hard at the hearts of wrestling fans everywhere. While I no longer follow professional wrestling, I was a fanatic as a child (The
Boston Globe's Peter Abraham
wrote a nice anecdote of meeting Savage back in 2005) and "Randy Savage" was captivating in his shtick, which landed him a sponsorship role with Slim Jim. He was an outlandish character who wore flashy and colorful garb and is widely considered by many to be the best Intercontinental champion of all time and served in elevating the title to a significant role rather than being known as the lesser title to the World Championship and was also known for his signature phrase, "Ohhhh yeahhh!"
But before he went onto wrestling fame, Poffo was a
minor-league baseball player
, entering the
Cardinals
system at age 18. Poffo was a Cardinals fan growing up and remained one his entire life Records are sketchy, but we know he batted .286 with a .492 slugging percentage in 63 at-bats for rookie ball in 1971. He would repeat the level in 1972 and 1973, before earning a promotion to Class A before washing out of the organization. He joined the
Reds
' system for 1974, hitting .232/.304/.358 in 521 plate appearances for Class A Tampa, cranking nine home runs before hanging them up for good.
Wrestlers have taken to Twitter to express their dismay over Poffo's death, including longtime friend
Kevin Nash
(otherwise known as Diesel) and
Dwayne "The Rock" Johnson
.
"I'm completely devastated, after over 10 years of not talking with Randy, we've finally started to talk and communicate," Hulk Hogan
tweeted
Friday
morning
. "He had so much life in his eyes [and] in his spirit, I just pray that he's happy and in a better place and we miss him."
For more baseball news, rumors and analysis, follow @cbssportsmlb on Twitter or subscribe to the RSS feed.
Photo courtesy uproxx.com, showing Poffo in his heyday.