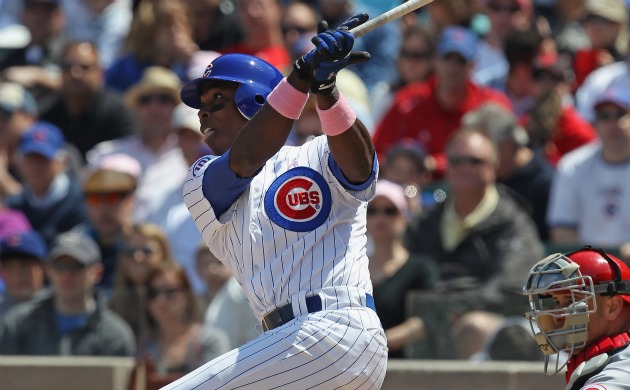 By Evan Brunell
Interleague play is upon us, which means that we'll be seeing some players in the National League get more at-bats over the weekend (and later in June, when interleague play really gets going) while AL teams will grouse about losing one of their best bats in NL parks.
"Any time that you get to interleague play and get the opportunities to get the guys some more at-bats is big,"
Astros
manager Brad Mills told the
Houston Chronicle
. "Get some guys some playing time and to have [
Carlos Lee
] DH is really nice for when we start playing National League games again and having those guys have at-bats under their belt."
It's pretty easy to figure out which players in the American League will lose playing time -- just look at whose been DHing the most all season and go from there. The NL, though, is a different story, who now have to fit someone from the bench into the starting lineup. Looking at just this weekend only, which players stand to benefit from interleague play?


Cubs vs. Red Sox
:
Alfonso Soriano
(pictured) is a man without a position, even though he'll go down in history with well over 700 games in left field to his name once he retires. But for the next three days, DH will be his home. Soriano still doesn't have an OBP over .300, but his power stroke is still going with 11 bombs so far. Tyler Colvin was recently demoted, so he won't get the playing time in left, so that job will fall to both
Reed Johnson
and
Tony Campana
. Johnson will absolutely be in the lineup Friday against a lefty, but with right-handers going the next two days, Campana could earn his first two starts of the season.
Jeff Baker
and
Blake DeWitt
could also figure into the equation.
Nationals vs. Orioles
: Bank on
Matt Stairs
DHing, as manager Jim Riggleman termed him the "leading candidate" to the
Washington Post
. The pinch-hitting extraordinaire has just 21 at-bats on the year with two hits, but regular at-bats could get him going. Other contenders include Mike Morse, who has lost a lot of at-bats in left field to
Laynce Nix
lately, so this would represent an opportunity to get Morse going.
Reds vs. Indians
:
Jonny Gomes
, despite recently
being pushed into a three-way platoon
, is the favorite to DH all three games in Cleveland. Gomes has been the DH in 16 of the last 18 interleague matchups for the Reds and will assume that position again in Cleveland which frees up left for
Chris Heisey
;
Fred Lewis
will likely also grab some at-bats.

Mets vs. Yankees
: Manager Terry Collins says that
Fernando Martinez
will DH the first two games with
Carlos Beltran
going on Sunday to take some pressure off his creaky knees, the
New York Post
writes. The Mets didn't want to call up F-Mart so he could get regular at-bats in the minors, but were forced into the move earlier. This will allow the Mets some type of justification for the move by getting Martinez into a game.
Astros vs. Blue Jays
: As Mills alluded to, Carlos Lee will be the DH in Toronto, with
Brian Bogusevic
and
Jason Michaels
picking up outfield starts as a result. Anytime the Astros get Lee out of the field, they become a much better club. Granted, that still leaves them in bad shape. Lee is hitting .245/.274/.390 in 168 plate appearances in his second straight year of struggling. There's only one year left on his deal, which the 'Stros can't wait for to end. He notched his 2,006th hit last Saturday.
Dodgers vs. White Sox
: The Dodgers will probably go with
Jay Gibbons
, as he's been working his way into more and more playing time in left. With the DH around, though, Gibbons should slide over to make room for
Tony Gwynn
, Jr.'s move into left field. Gibbons hasn't really gotten going yet, and this weekend series will be a great way for him to focus on just hitting while L.A. doesn't have to worry about sacrificing defense.
Cardinals vs. Royals
: The Cardinals get some fortuitous timing of interleague as both
Lance Berkman
and
Matt Holliday
are hobbled due to injury. Only one can DH, but it will still get one of the two best bats on the team in the lineup. Bet on Holliday, who had a sore left leg. Berkman's injury is a bit more severe, with a right wrist sprain that limits his ability to swing a bat. John Jay, who earned starting time last season, has found the going much tougher this year, collecting just 78 at-bats despite appearing in 48 games. Jay tends to enter games as a defensive replacement, but has received four consecutive starts because of current or previous injuries to Holliday, Berkman and
Colby Rasmus
. He's at .302/.397/.460 on the year.
Braves vs. Angels
: To no surprise,
Chipper Jones
will receive a respite from his balky knees over the next two games as he recovers from a slight meniscus tear that could eventually require surgery. He'll play third on Sunday, though, which will open up DH for someone else. The guess here is the injury-prone
Jason Heyward
draws a start at DH, with
Joe Mather
or
Eric Hinske
patrolling the outfield as a result.
For more baseball news, rumors and analysis, follow @cbssportsmlb on Twitter or subscribe to the RSS feed.