By C. Trent Rosecrans
I really don't mean this as a slight to either the Chicago Sun-Times' Gordon Wittenmyer or Chicago Tribune's Paul Sullivan -- both are top-notch beat reporters on one of the toughest beats in the game. When you're a baseball beat writer, you're always reaching for something new, something a little different and can often get stuck in a rut. Sometimes you want to branch out from the mundane day-to-day results and look at the bigger picture. With the Cubs, there are plenty of big-picture articles that can be written, including how the team should move forward.
But, well, I did find these two back-to-back entries in my Google Reader amusing enough to share: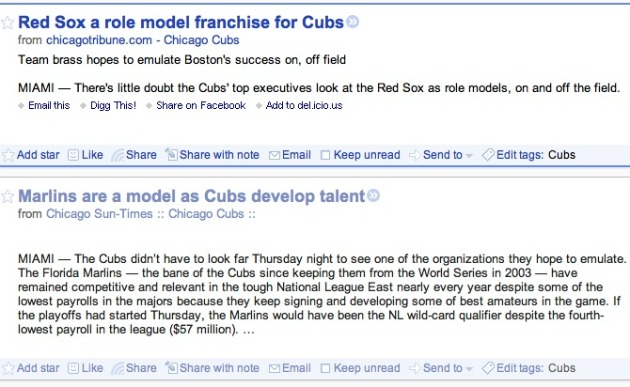 Me? I'm with Sully, I'll aim high and shoot for emulating the Red Sox, although the Marlins are nothing to sneeze at -- especially as the team in South Florida prepares to move into a new stadium and have a nice young nucleus of talent.
Anyway, just something that struck me as funny. Both stories are well worth reading and certainly have merit.
Sun-Times: "Marlins are a model as Cubs develop talent"
Tribune: "Red Sox a role model franchise for Cubs"
For more baseball news, rumors and analysis, follow @cbssportsmlb on Twitter or subscribe to the RSS feed.