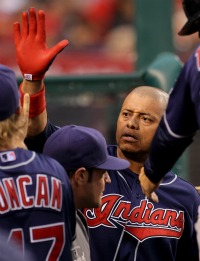 By C. Trent Rosecrans
Second baseman
Orlando Cabrera
was not with the
Indians
in Chicago on Thursday, instead he left the team to return to his home in South Carolina to officially become a United States citizen.
A native of Columbia, the 36-year-old Cabrera had been going through the citizenship process the last few months and his manager, Manny Acta, was happy to let him off for a day to officially become a U.S. citizen. Acta, born in the Dominican Republic, went through the same process in 1999.
"I know he's very happy and excited," Acta told MLB.com of Cabrera. "I've gone through it. It is a great moment. We all appreciate the type of life that you can live here with all the freedom and all the security we have here. It's going to be a great moment for him."
Cabrera is expected to return to the team in Cleveland on Friday for the showdown with the team he played for last season, the Cincinnati Reds. Cabrera is one of the main sparks for the surprising Indians, hitting .280/.299/.360 for Cleveland, although it should be no surprise the Indians are in first place with Cabrera on the team. Cabrera has been to the playoffs in six of the last seven seasons, including last season with the Reds and he was part of the 2004 Red Sox.
For more baseball news, rumors and analysis, follow @cbssportsmlb on Twitter or subscribe to the RSS feed.