By C. Trent Rosecrans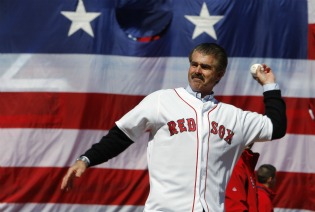 WGN in Chicago needed a one-game fill-in for analyst Bob Brenly for Friday night's game at Fenway Park, and of all the former
Cubs
, who did they select?
Bill Buckner.
Buckner, who finished his career with 2,715 hits over parts of 22 seasons from 1969 to 1990, playing for the Dodgers, Cubs, Royals, Angels and, of course, the Red Sox.
Despite winning a batting title in 1980 and making the All-Star team in 1981 (both in Chicago), Buckner is remembered for his fielding error in Game 6 of the 1986 World Series, a play that allowed the Mets to score the winning run and deny Boston a championship.
For those new-comers to the game, there was a time not all that long ago that Red Sox fans were the most miserable people on Earth, wallowing in the team's inability to win the big one. That time has now passed, as most of the frat boys you see at your local watering hole wearing Red Sox caps weren't part of "the Nation" when Mookie Wilson's grounder went between Buckner's legs. Of course, much like Carlton Fisk's homer didn't win the '75 Series for the Sox, Buckner wouldn't have given the Sox a title if he'd fielded the ball, the game was already tied.
Anyway, for years Buckner was a pariah in New England, his name cursed as much as Bucky F'n Dent's. All has been forgiven in recent years after the drought was broken, but for many years, Buckner was unfairly persecuted.
But, hey, Buckner says he's dealt with it and he's fine now.
"You just deal with crap that comes up, and that's what life is," Buckner told the Chicago Tribune. "Life's tough, and you handle it. I'd do it all over again to get the opportunity to play sports and make a good amount of money. I was very fortunate. In real life, in real situations, what I had to go through is nothing."
Buckner, it should be noted, will be in his first year of managing for the Brockton (Mass.) Rox of the Can-AM Indepenedent League, which started its spring training this week, so it's not just words. Good for him, and it's a great outlook on life that we should all take to heart.
For more baseball news, rumors and analysis, follow @cbssportsmlb on Twitter or subscribe to the RSS feed.