By C. Trent Rosecrans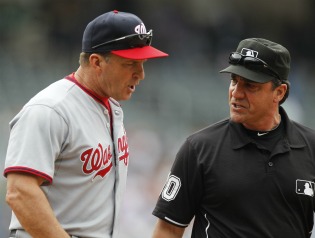 Another day, another blown call controversy.
Today's episode of bad umpiring comes courtesy of Phil Cuzzi, who called Jayson Werth out at first for the second out of the ninth inning in the Nationals' 1-0 loss to the Mets. Werth may have not only beat the throw from third baseman Jacob Turner, but first baseman Daniel Murphy also pulled his foot off the bag. (See the play here.)
Had the play been called correctly, the Nationals would have had runners at first and third with one out and in position to tie the game. Instead, with two outs, Adam LaRoche grounded out to end the game.
After the game, Amanda Comak of the Washington Times reported one Nationals player saying, "I want to be an umpire when I grow up -- no responsibility, no accountability."
Several Nationals argued with umpires as they walked off the field, but only starter Livan Hernandez would go on record.
"What did I see? He was safe. He beat him two times," Hernandez said. "He was safe when the guy got off the bag and he was safe because he beat the throw. I think he made a big mistake, the umpire there, because it's not about his foot is off the bag, it's safe because he beat the throw. He was safe two times."
Nationals manger Jim Riggleman appealed to home plate umpire Manny Gonzaelz, but he refused to offer an opinion. Looking at the replay, Gonzalez was watching the play, but he was outside of the baseline, behind the plate, so he may have been blocked by Werth from his angle.
"I wanted to see if, from his angle he could see better maybe that the first baseman came off the base," Riggleman said. "He's got a good look at that. … Maybe the home plate umpire can get a better look. He just refused to do that."
To be clear, this wasn't a Jorge Orta/Don Denkinger level bad call, it took some super slo-mo and HD cameras to tell that Murphy's foot was indeed off the bag. In the past, it would have been maybe too close to tell, but now we do know better. Technology has improved so much that we can see for sure when the umpires err.
Many people complain about umpiring (and, well, a lot of times it's justified -- cough, Joe West, cough, Bob Davidson, cough), but the more you watch, I think it's amazing how much the umpires get it right. And that's why I'm for replay on a limited basis -- these guys are so good at what they do (for the most part), they should be able to finish a game and know they got them all right. Ask Denkinger or Jim Joyce how much their missed calls bother them, and you'll hear from someone who is bothered by it more than any Cardinal fan or Armando Galarraga. The ego of the umpire may not want instant replay, but their conscious just may. In the end, it's about getting the calls right -- that should be the goal of any umpire and it should be done by any means necessary.
For more baseball news, rumors and analysis, follow @cbssportsmlb on Twitter or subscribe to the RSS feed.