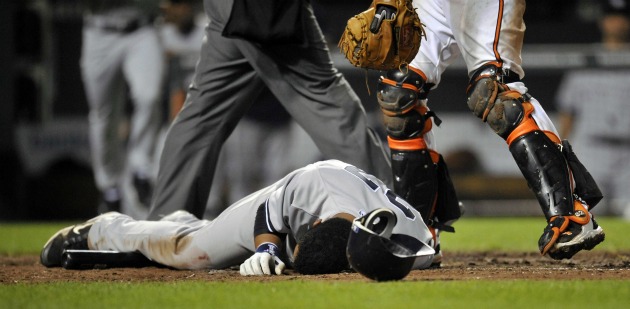 By C. Trent Rosecrans

Good news from Baltimore, where Yankees outfielder Chris Dickerson said he suffered a concussion and a headache after being hit in the head by a Mike Gonzalez fastball Thursday night.
Dickerson was taken to a Baltimore-area hospital and a CT scan showed a concussion, but Dickerson told the Associated Press it was "nothing serious." Although he isn't in the lineup tonight, Dickerson said he wants to play Friday at Yankee Stadium against the Mets.
Gonzalez, who was ejected, apologized to Dickerson and gave him a hug before Thursday's game.
"I just wanted to make sure that he was OK," Gonzalez told the Baltimore Sun. "Obviously, it wasn't my intention. I wasn't trying to hit the guy. I felt a much better piece of mind when I got to talk to him. He understood the whole situation. He said that he knew I wasn't trying to hit him. That means the world to me. When I saw him out there walking around, I was very happy with it."
Gonzalez was ejected by home plate umpire Dan Bellino after his pitch hit Dickerson in the helmet. Gonzalez said he didn't know if he'd face further disciplinary action, but he would appeal a suspension.
"I'm definitely going to fight it," Gonzalez said. "That was uncalled for. Anybody watching that game is going to know that there was no intention there."
For more baseball news, rumors and analysis, follow @cbssportsmlb on Twitter or subscribe to the RSS feed.