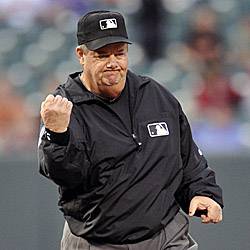 By Matt Snyder
Stop me when you've heard this one before: There are some players complaining about Joe West's umpiring crew.
Yeah, I know ... pretty far-fetched, huh? (For my feelings on the crew,
you can click here to read something I wrote
a few weeks ago)
Anyway, Tuesday night,
Eric Patterson
of the
Padres
was deemed to have left third base early on a would-be sacrifice fly in the second inning by Joe West. One problem, at least according to the Padres, was that West wasn't even looking at Patterson. Nope, Padres' relief pitcher
Mike Adams
said that Wednesday a few of the players reviewed the video of their loss and noticed West wasn't even looking at Patterson. As Adams explained it to the
North County Times
, he made sure to point out that the Padres' players weren't exactly shocked, considering the source.
"As soon as it ended, a lot of us went in to go take a look at it," Adams said. "You really don't expect anything less out of that crew."
He wasn't done.
"There's a reason (West and Angel Hernandez) were voted two of the top three worst (umpires) in the big leagues. It seems like they've always got to be part of the game."
Lost in the mix of the incompetence of West, Hernandez, et al is that Padres manager Bud Black actually has a salient point about using video review. Situations like these are precisely where it would make sense. I'm not exactly for reviewing every single play, but whether or not a player leaves early on a fly ball is easily reviewable via video -- and also something that's pretty difficult for umpires to judge even if they are paying attention.
For more baseball news, rumors and analysis, follow @cbssportsmlb on Twitter or subscribe to the RSS feed.