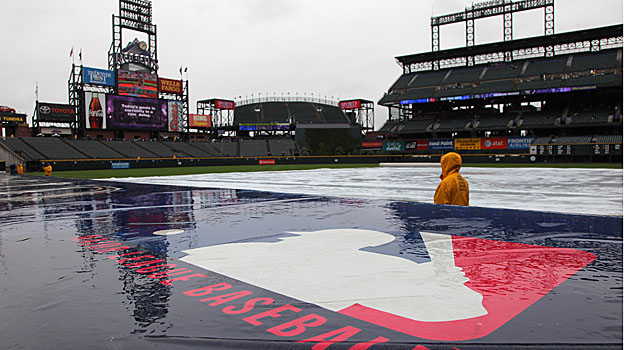 By Matt Snyder
I've been especially cranky this spring. No, it's not because the
Cubs
aren't good. I don't especially enjoy rooting for a team with a historic run of futility, but I'm used to that agony by now. The crankiness comes from the weather. It's not just that I have to mow a 10-inch long lawn every five days when there's an hour window with no rain or that I don't remember what a sunny day looks like. No, it's because my favorite sport can't be played in the rain and games are being called at an alarming rate.
In April, there were 16 games rained/snowed out. In May, there have been 13 so far. You know how many games were rained out in the entire 2010 season? We're already past it, as there were 21. In the past decade, the highest number of rainouts was 50, back in 2004. So we're roughly 60 percent of the way there after seven weeks of play. For a point of reference, at this point in the 2004 season, there had only been 15 rainouts.
And apparently we'll have to wait a bit longer for a reprieve. According to
Accu Weather blog
, "the rainy pattern will continue until the weekend for Northeast, while the Midwest will continue to have soggy conditions until next week."
In looking at the schedule, that means the following weekend series could be affected:
Cubs-Red Sox
Mets
-Yankees
Cardinals
-Royals
Tigers
-Pirates
Rangers
-Phillies
Reds
-Indians
Nationals
-Orioles
Dodgers
-White Sox
And let's not forget the Midwest continuing into early next week:
Mets-Cubs
Rays
-Tigers
Red Sox
-Indians,
Twins
-Mariners and
Braves
-Pirates could be in peril, too, depending upon the definition of "Midwest" here.
I'm gonna go play in traffic now. If I emerge unscathed, let's come up with the opposite of a rain dance together.
For more baseball news, rumors and analysis, follow @cbssportsmlb on Twitter or subscribe to the RSS feed.