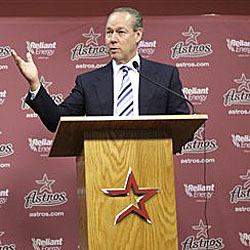 By Matt Snyder
Earlier this week, Drayton McLane agreed to sell the
Astros
to Jim Crane for $680 million, though the sale isn't finalized until the bid is examined by MLB's ownership committee and executive council. From there, Crane would have to be approved by the current MLB owners in a vote. Most of the time, these hurdles are a mere formality, but Crane may have an issue.
Back in 2000, the Equal Employment Opportunity Commission found that Crane's company -- Eagle Global Logistics -- had discriminatory workplace practices. (
New York Times
) Now, lots of times just hearing something like that sends people into a tizzy on each side of the fence. There will be a line of people claiming everything is considered discriminatory these days and a line of people ready to convict sight unseen.
Let's take a long look at some of the findings, though. I'll present both sides and let's please consider both before making a decision, OK? Here we go.
On the bad side (for Crane):
There was an accusation that Crane told his managers not to hire blacks because "once you hire blacks, you can never fire them." There were also witnesses that said Crane never publicly advertised job openings for fear qualified minority job seekers would apply.
Some other claims: "Eagle had also demoted women from managerial positions, maintained a hostile workplace, paid blacks, Hispanics and women less than male and white counterparts, and shredded important documents."
Some former employees did file a civil lawsuit against Crane and his company and he settled out of court for $8.5 million.
On the good side (for Crane):
Crane admitted no wrongdoing in the lawsuit, so it's very well possible he was just trying to eliminate bad publicity before the case gained any further notoriety. Also, Crane and his company have continually denied the allegations, and have since gotten $6 million of the settlement back due to only 10 percent of the initial claims being deemed worthy of compensation.
One of Crane's lawyers said the case was "an unfortunate example of an unfounded prosecution of a private employer."
Also, the case never went to trial -- so none of the witnesses were deposed in a court of law.
What is all means
Obviously, Crane is going to have to answer some questions to Major League Baseball and his prospective fellow owners. The allegations are a decade old, so even if there was some wrongdoing, Crane could convince the powers-that-be that he's learned his lesson and changed. Or he could say the charges were all bogus and use some of the evidence he has in hand.
One of the biggest areas of concern for Major League Baseball has to be the public relations one. The league need not try the case or anything of the sort, but if an owner is widely considered discriminatory by the fans, it's bad for business. The NAACP has said Crane has a "dismal record in the area of discrimination." Many of the owners might feel there's no reason to bring in an owner that draws that kind of sentiment from anyone -- as there are bound to be suitable owners out there with zero baggage. It is an exclusive club, after all, being that there are only 30 franchises. It's not like it's a court room where they have to prove anything beyond a reasonable doubt. It could simply be a matter of not wanting to deal with any fallout.
Also, looking down the road, do the Astros have trouble landing minority players via free agency? Do members of the front office sour on the potential new owner? These are certainaly secondary considerations at this point, but ones I wouldn't mind hearing an opinion on from Astros fans.
All in all, what appeared a relatively uneventful sale at first might actually get a bit messy. Time will tell.
For more baseball news, rumors and analysis, follow @cbssportsmlb on Twitter or subscribe to the RSS feed.