By C. Trent Rosecrans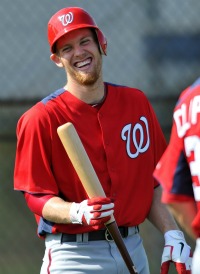 On the same day Nationals GM Mike Rizzo said phenom Bryce Harper will not see the majors this year, another top pick is getting closer to returning to the big leagues, although the timing suggests it will not be this season.
Stephen Starsburg -- remember him? -- is "close" to throwing off the mound, Nationals pitching coach Steve McCatty told reporters, including the Washington Post's Adam Kilgore, on Wednesday.
"Everything is going along fine," McCatty said. "I know he's close to throwing off the mound. I'm sure he's getting close to it. I know there were some discussions about it. It will be shortly. Everything has been going fine."
McCatty noted Strasburg is feeling "great" but "bored" with his rehab, which is pretty normal for the long road back from Tommy John surgery.
Last season Jordan Zimmermann threw off the mound seven months and three days after his surgery and made it back to the majors in about a year. Strasburg's surgery was eight months and eight days ago.
"When he's ready, he's ready," McCatty said. "If it's 12 months like Zimmermann or a little longer or a littler shorter, we just can't sit here and say, 'Bang, here's the milestone, now the clock is ticking.' It doesn't work that way. He's feeling fine. He's getting close. Everything is going well. You got to take your time. You can't rush it. And he says he feels great."
The Nationals will likely allow Strasburg to take it easy -- there's no reason to rush him at this point. But even when he does come back, it takes time for a player to really come back to being the pitcher they were before. However, once that happens, the team will have one of the best pitchers in the game back and that certainly can't hurt.
For more baseball news, rumors and analysis, follow @cbssportsmlb on Twitter or subscribe to the RSS feed.