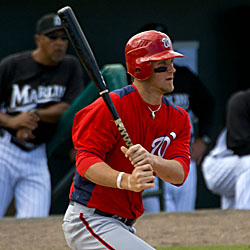 By Matt Snyder
Those pining for a Bryce Harper call to the majors this year will be sorely disappointed by the time the 2011 season concludes. There is no possibility he's in a Washington
Nationals
jersey this season, not even in a September call-up.
"It's not gonna happen, because he's not ready for that to happen," Nationals general manager Mike Rizzo said in a radio interview Wednesday afternoon (via
Nats Insider
)
When Rizzo was asked if he was definitely ruling out a promotion to the bigs in 2011 for Harper, he simply said: "Yes, I am."
The top overall selection in last June's draft, Harper is one of the most-watched minor-leaguers. He's only 18 -- in fact, he should still be a senior in high school -- and has what many believe is Hall-of-Fame talent. He was the second-straight heavily-hyped prospect the Nats drafted, too, after taking
Stephen Strasburg
first overall in the previous draft.
It's not like Harper's having trouble with Class-A pitching, either. He's destroying the ball. In 150 plate appearances, Harper is hitting .366 with 11 doubles, nine home runs, 31 RBI, 26 runs, six stolen bases and a 1.103 OPS.
Factor in that the Nationals are playing for the future, and there's good reason to see why Nats fans might want a glimpse of seeing Harper sooner rather than later.
Rizzo is taking the correct approach, however, for many reasons. First of all, you cannot rush the development of a future star, for fear you ruin him. Secondly, he has to learn how to handle defense in the outfield, as he was a catcher his entire amateur life. Finally, there's no reason to start his major-league service time clock, which would get him to free agency faster. The Nationals should have plenty of financial resources by the time he's ready to sign a big contract -- assuming everything goes well and he gets to that point -- but in the meantime those resources should be used to fill a competitve roster while waiting on him.
For more baseball news, rumors and analysis, follow @cbssportsmlb on Twitter or subscribe to the RSS feed.