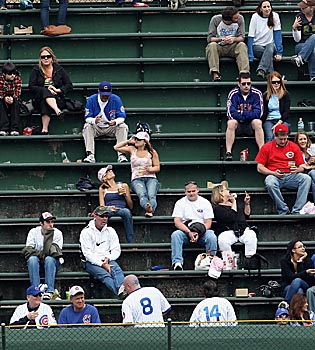 By Matt Snyder
One of the biggest hot-button subjects in baseball for the better part of the past 15 years -- other than PEDs, of course -- has been the disparity between the so-called large market teams and the so-called small market teams. In a sport void of a salary cap,
how can teams from smaller cities be expected to compete with the Yankees and Red Sox?
, we've been hearing for far too long.
Then, since it's somehow become cool to hate on baseball, the NFL fans (and sometimes other sports) like to talk about how much more parity there is in "their" sport and how it's the same teams every year in baseball.
The problem is that almost all of this is complete and utter fallacy.
Sure there are payroll disparities, but the rest is complete nonsense. Let's take a look at some of the contradictions to the common cries:
- Since the Yankees' last dynasty ended, here are the World Series winners in order:
Diamondbacks
,
Angels
,
Marlins
, Red Sox,
White Sox
,
Cardinals
, Red Sox,
Phillies
, Yankees,
Giants
.
Hmmm ... I only see one name in there twice. How does the NFL -- the bastion of all that is fair in this world, after all -- look in the same time period? Patriots, Bucs, Patriots, Patriots, Steelers, Colts, Giants, Steelers, Saints, Packers. Wow, what diversity.
- You don't have to spend money to win in baseball. The Tampa Bay
Rays
consistently have one of the lowest payrolls in baseball and still win games. This past season, they saw significant losses due to money, but are still sitting in first place and look to be strong enough for the long-haul. Last year's World Series teams -- the
Rangers
and Giants -- were mid-level spenders. The
Braves
are a mid-level spender and always in contention. Meanwhile, the
Mets
and
Cubs
are pretty good at flushing money down the toilet. These are just a few examples. There are more on both sides of the spectrum.
- Look at this season's current standings. Only three teams in all of baseball are more than seven games out of first place (
Twins
, White Sox,
Astros
). Oh, and the Twins (ninth) and White Sox (fifth) are top-10 payroll teams. At the top of the standings, the Rays (29th),
Indians
(26th) and A's (20th) have at least a share of first place. The
Reds
(18th) and
Rockies
(14th) aren't exactly huge markets either. That means that in the current standings, only the Phillies (second) are in first place as a large-market team. The Rangers (13th) are tied with the A's in the AL West. The Marlins are another small-market team knocking at the door in a tough division. Will all this hold up? It very well might, as we're quickly approaching the 1/3 mark of the season.
Just so we're clear, if you said the top-10 payrolls are large market, next 10 are middle and last 10 are small, here they are:
Large: Yankees, Phillies, Red Sox, Angels, White Sox, Cubs, Mets, Giants, Twins,
Tigers
Middle: Cardinals,
Dodgers
, Rangers, Rockies, Braves,
Mariners
,
Brewers
,
Orioles
, Reds, Astros
Small: A's,
Nationals
,
Blue Jays
, Marlins, Diamondbacks, Indians,
Padres
,
Pirates
, Rays,
Royals
(
see USA Today for the full list
)
Obviously, it's far too rudimentary to define teams in this manner, but I'm frankly tired of hearing about how the Twins are a small market -- not to mention the Cardinals, Brewers or Reds. They aren't small. Enough with that talk. The Rays are small market. The Royals are. Oh, and the Braves are constantly accused of being a large-market teams by fans on message boards, too. That isn't true either.
- Middle-to-small market teams spend poorly, too. The Orioles, for example, have blown a ridiculous amount of money on their bullpen the past decade.
MASN.com gives a great glimpse
at the issue -- noting that the blown 6-run lead Monday against the Red Sox was done so by $16.5 million worth of relievers. You can't make mistakes like that when competing against the big-spending Yankees and Red Sox and the smart-spending Rays (and now Jays, it appears). There are bad contracts like this on many small-market teams. Here are the examples, one from each of the eight lowest payrolls, aside from the Rays (since they don't really have one):
Jason Kendall
,
Lyle Overbay
,
Ryan Ludwick
,
Travis Hafner
(sorry, he's not worth $13 million),
Joe Saunders
,
Javier Vazquez
and
Juan Rivera
. The bottom line is that the best front offices work well within their resources and put a winning team on the field. The worst ones lose games, regardless of payroll.
This wasn't meant to be an all-encompassing look at every issue nor was it meant to say baseball is perfect. It wasn't meant to say baseball is better than football, either. I hate it when NFL people talk about how superior their favorite sport is to others, so I won't be a hypocrite (plus, I quite like the NFL and hope to watch it this fall).
It's just some food for thought to dispute lots of things I see on the message boards on a slow Wednesday as we wait to see how many Godforesaken rainouts we'll have tonight.
For more baseball news, rumors and analysis, follow @cbssportsmlb on Twitter or subscribe to the RSS feed.