By C. Trent Rosecrans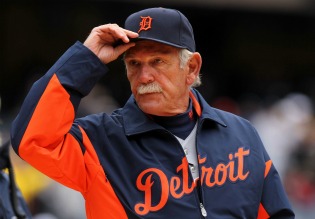 Jim Leyland said he knows Bud Selig won't be happy to hear him say it, but he believes it's time interleague play is shelved.
"It was a brilliant idea to start with, but it has run its course," Leyland told Tom Gage of the Detroit News.
With the Tigers prepping for three games with the Pirates, it's tough to argue with the veteran manager.
"And let me emphasize this, it originally was a tremendous idea. But it's not really doing what it's supposed to do," he said. "There are no rivalries for most of the teams. I'm sure it helps the White Sox a little bit when they host the Cubs, but ti doesn't help at Wrigley Field. The Cubs pack it most of the time anyway. The Yankees also pack their place most of the time."
Proponents will point to attendance numbers, but also avoid noting many interleague games are played on prime dates -- weekends after school has let out for summer.
And as for the "rivalries" -- Leyland is right. It's silly that the Reds and Indians play twice in interleague play when there's no real rivalry between the two Ohio teams. Sure, it's nice for the New York teams, the Chicago teams and the Bay Area teams, but does a Marlins-Rays series really bring any extra fans? And that's not even beginning to mention the Padres and Mariners. Of course, without that rivalry, the Padres may actually play National League foe Milwaukee more than they face the Mariners, and who would want that? San Diego faces Seattle six times this season, while it plays the Brewers just five times. But hey, these two teams share a spring training complex and you know nothing builds a rivalry quite like a spring training complex.
Leyland also bemoaned the fact that he'll have two consecutive series in National League parks next month, meaning he won't be able to use a designated hitter for six games, saying it's "ridiculous" and "totally unfair."
Leyland, who has managed the Pirates, Rockies and Marlins in addition to the Tigers, also said he'd like to see the DH either adopted in both leagues or dropped.
"I don't care what they do," he said. "Whatever way they go is fine with me, but the rules should be the same."
For more baseball news, rumors and analysis, follow @cbssportsmlb on Twitter or subscribe to the RSS feed.