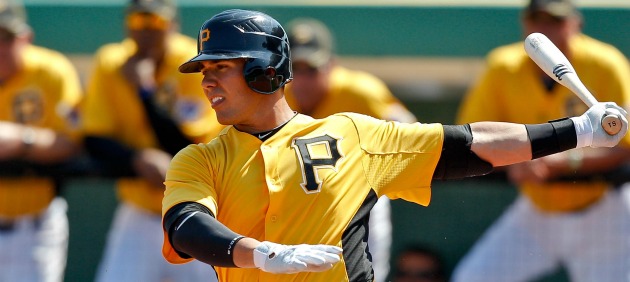 By C. Trent Rosecrans
The Pirates were none too happy about tweets critical of umpires made by prospect Tony Sanchez. As a result, Sanchez has shut down his Twitter account (@TSanchez26).
Sanchez, who will turn 23 this week, told Rob Biertempfel of the Pittsburgh Tribune-Review, "Twitter is done."
At 3:30 p.m. on Tuesday, he wrote: "see ya twitter. thanks to the fans for their support and continued support. Pittsburgh is the only goal and twitter is standing in my way."
Biertempfel has asked general manager Neal Huntington for an official response, but has yet to hear back from him.
However, according to Cory Giger of the Altoona Mirror, Pirates farm director Kyle Stark said the team did not order Sanchez -- or any other Pirate minor leaguer -- to stop using Twitter.
"We have not banned Twitter for any of our players," Stark texted Giger.
On May 9, Sanchez tweeted: "Sometimes the umpires just decide to blow a game. Never seen a winning teams (sic) crow go silent as the game winning (sic) run crosses the plate."
Sanchez later apologized on Twitter, writing, "Should have kept my feelings about last nights (sic) outcome to myself. I work hard to have a great relationship with umpires to let one call jeopardize that relationship. I apologize and will not let it happen again"
Monday night Sanchez tweeted about a woman wearing an exposed thong and allowing her child to throw fireworks at a gas station -- "Only in Altoona," he wrote, along with a picture showing the woman's superman thong exposed while bending over.
Just a few days before his incident about the umpires, Sanchez talked to the Altoona Mirror about using Twitter and said, "Things can get out there quick, and I learned my lesson early in the Twitter game. I haven't made a mistake since then, so I'm learning."
He said the previous incident happened when he sent a tweet about having a party and Stark admonished him. It seems likely that Stark could be correct in saying he has not banned Sanchez from Twitter, but it's likely he's strongly encouraged the catcher to
Sanchez was the team's first-round pick out of Boston College in 2009 and is ranked as the organization's No. 2 prospect and the No. 46 overall prospect in baseball by Baseball America. Sanchez is hitting .274/.384/.349 with one home run and 14 RBI in 31 games for Double-A Altoona.
For more baseball news, rumors and analysis, follow @cbssportsmlb on Twitter or subscribe to the RSS feed.