By C. Trent Rosecrans
Little surprise here, but Tony La Russa is upset at other people and what they do or say.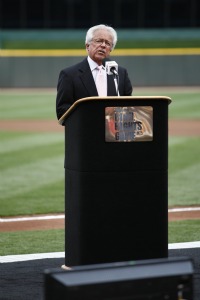 On Tuesday, he was asked about these comments from Reds radio play-by-play man Marty Brennaman (right) during Monday's Reds-Cubs broadcast about the complaints made by Cardinals starter Chris Carpenter, who complained about the mound at Great American Ball Park:
Marty Brennaman: The grounds crew did an incredible job, despite what that whiner and excuse-maker Chris Carpenter complained about the mound and the smoke after the fireworks -- Travis Wood didn't.

Jim Kelch: It's always something when they come in here.

Brennaman: Yeah, that's the line Joe Petini laid on the media, that every time they come in here, it's always something with that team. Oh, really? You might be the most unliked team in baseball and it's always the other team? Unbelievable.
Joe Pettini, the acting manager of the Cardinals over the weekend, said, "It's always something when you come in here."
Later, Brennaman called Cardinals pitching coach Dave Duncan "infantile" for his criticism of Reds closer Francisco Cordero for hitting Albert Pujols in Sunday's Reds victory.
Well, Tuesday, La Russa fired back.
"I think the safest thing to say is he's a Hall of Famer, and he should get the respect that inclusion in that place deserves," La Russa said, according to MLB.com's Matthew Leach. "And then he ought to earn it every day from his Hall of Fame induction forward. He ought to earn it and not abuse it."
Brennaman won the Ford C. Frick Award, presented by the National Baseball Hall of Fame, in 2000. Brennaman is well known for saying exactly what he feels on the air and that's gotten him in trouble occasionally, but he's been paid for many, many years to say exactly what he feels and that's not changed anytime recently. That's what makes listening to Brennaman a joy, he calls a great game and doesn't let anything hold him back -- even to the dismay of some Reds players and officials. There are homers out there, but Brennaman isn't one of them.
Brennaman was honored by the Hall of Fame because he does his job well, and sometimes that includes criticism. La Russa will be inducted into the Hall of Fame as soon as he's eligible, but that will be as a manager, not a broadcaster. He doesn't have to like what Brennaman said, but Brennaman is living up to his reputation -- and his duties -- as he says what he did about the Cardinals, Carpenter and Duncan. La Russa, too, has a right to defend his players and coaches, even though at time it may be better just to decline comment. But hey, it keeps keep us bloggers employed, so there's that. And with the Reds and Cardinals battling for the NL Central crown (along with the Brewers and Cubs) in a race that won't be decided until the end of the season, the back-and-forth should give us fodder for months to come.
For more baseball news, rumors and analysis, follow @cbssportsmlb on Twitter or subscribe to the RSS feed.