By Evan Brunell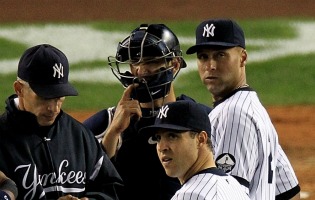 Time for one last volley in the
Jorge Posada
fiasco he found himself embroiled in with manager Joe Girardi.
Derek Jeter
inserted himself into the controversy by defending Posada and saying he thought the longtime backstop, in his first year as a full-time DH, did not need to apologize to the team and that Posada should be allowed to take a day to gather himself.
Except he didn't have the full story, so Jeter's comments only served to inflame
Yankees
brass, who held a conference call with Jeter recently to clear the air.
Jeter told his bosses, according to
Sports Illustrated
's
Jon Heyman
, that Posada had only told Jeter that he asked for a break -- not that he had refused to play. There's a difference between asking for a break and refusing to play, and Posada crossed that line. After being apprised of the real situation, Jeter was then absolved of any wrongdoing by the brass.
Heyman
added
that the "underlying issue" is that Posada does not like nor trust Girardi, stemming from when they were teammates. Girardi played for the Yankees from 1996-99, and in that time period was constantly jockeying for playing time with Posada, who was an up-and-coming catcher that eventually received the majority of playing time before Girardi departed. It's easy to see how there could be friction between two former teammates competing for the same job, and there is likely many behind-the-scenes stories we will never hear.
For more baseball news, rumors and analysis, follow @cbssportsmlb on Twitter or subscribe to the RSS feed.