By Evan Brunell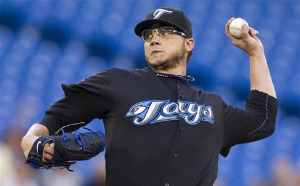 When Brett Cecil was demoted to Triple-A, the lefty admitted it was hard to handle.
After all, Cecil had posted a 15-7 record and 4.22 ERA in 28 starts and looked well on his way toward being a fixture in the Jays rotation. While that future is still likely, Cecil had to take a brief detour back to the minors after coughing up 16 runs and 11 walks in 21 innings.
"It just shows you how quickly things can turn around from one year to the next," Cecil told the
Las Vegas Review-Journal
. "Given the year I had last year, it's kind of a tough thing to swallow. But I was just beating myself up [in Toronto]. My confidence was probably at an all-time low."
Cecil has righted himself with Las Vegas after giving up 10 runs in 4 1/3 innings in his first start, an outing Cecil was all too ready to forget. The start came at Colorado Springs, which is at high altitude to allow its players a chance to get accustomed to the next stop on the ladder: Colorado.
"That's a horrible place to pitch for anybody. The ball just flies out of there," Cecil said. "That's kind of why I didn't really pay attention to that start. It's a fluke, as far as I'm concerned."
Since then, Cecil has done just fine, with increasing velocity in each start, which is exactly what the
Blue Jays
wanted to see. The problem Cecil ran into in Toronto was a mysterious lack of velocity, with his average fastball this season in the majors checking in at 88.4 mph, two miles off his average mark in 2010.
"When you're throwing that speed, it's tough to get outs when you're up in the zone," he said. "Last year, my velocity was 91 to 93 and, for the most part, the ball was down.
"To have the velocity I had up there [this year], it wasn't good enough to put it by anybody."
That's changed in Las Vegas. Cecil reached 91 mph with his fastball Monday, marking a consistent increase in the velocity of his fastball in each of his farm starts.
"Right now I'm right where I want to be," he added. "The ball's down, my velocity's where it should be, and hopefully it keeps climbing so I can be consistently in the low 90s again."
Toronto will likely want Cecil to get a few more starts under his belt with consistent fastball velocity in the low- to mid-90s, but his return doesn't appear all that far off. Those in danger of losing their spot to Cecil are Jesse Litsch and Jo-Jo Reyes. Litsch was actually optioned to the farm prior to Cecil's demotion and returned to step into the breach. Reyes has struggled mightily this season but appears to be turning a corner.
For more baseball news, rumors and analysis, follow @cbssportsmlb on Twitter or subscribe to the RSS feed.