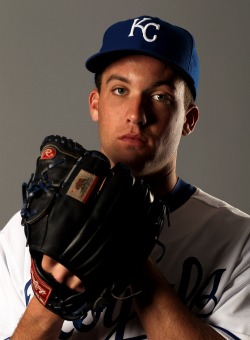 By Evan Brunell
The
Royals
will call up left-handed starter Danny Duffy to make a spot start Wednesday after the club optioned out expected starter Vin Mazzaro, the Royals announced.
Duffy, 22, has a chance to stick in the rotation long-term as the team will have two vacant spots in the rotation due to the Mazzaro demotion and
Kyle Davies
hitting the disabled list.
Nate Adcock
or Mazarro's replacement in
Everett Teaford
will draw Davies' spot later in the week.
Duffy, who briefly retired from baseball for a time in 2010, ranked as the No. 79 prospect on CBSSports.com's Top 100 prospect rankings. The left-hander has made seven starts at the Triple-A level thus far, posting a 3.00 ERA and sterling 43/10 K/BB ratio.
With the Royals hanging around in the AL Central, six games behind the
Indians
, and the upside-down division up for grabs, K.C. has proven rather aggressive in promoting its prospects, even though both Duffy and first baseman
Eric Hosmer
will likely qualify for Super 2 arbitration after 2013 -- if Super 2 is even part of the next labor agreement.
For more baseball news, rumors and analysis, follow @cbssportsmlb on Twitter or subscribe to the RSS feed.