By Evan Brunell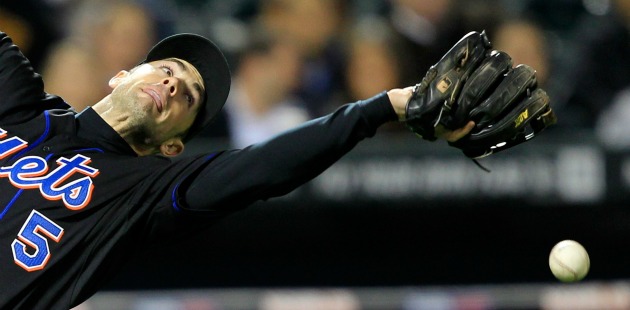 While
David Wright
's stress fracture won't keep him out for the rest of the season, it appears as if Wright has opened himself to a life of back pain.
"Is he a risk for having recurring pain? Yeah, he's at risk," Jeff Goldstein, director of Spine Service at NYU Hospital for Joint Diseases, told the
New York Post
.
A stress fracture is essentially a crack in the bone, which is unlikely to ever heal. While Wright could return as soon as his 15 days are up, Arnold Criscitiello, a spine surgeon with Ridgewood (N.J.) Orthopedic Group, said that the better course is to do a 4-to-6 week layoff. The good news is that Wright won't need surgery unless the pain doesn't subside. Usually, rest and physical therapy is enough.
Interestingly enough, Criscitiello wonders if Wright has had this stress fracture for years.
"Chances are, this player as an adult may have had this injury years ago as a kid and never really realized it," Criscitiello said.
The majority of stress fractures in the area Wright suffered it occur as children, and if it was broken as an adult, they would be in severe pain. Usually, such people are unaware of their injury until it is triggered later in the person's life.
Wright is hitting .226/.337/.404 through 39 games for the
Mets
. New York is expected to shift second baseman
Justin Turner
to third base, with Ruben Tejada receiving a promotion to the second-base job in the city until Wright can return.
For more baseball news, rumors and analysis, follow @cbssportsmlb on Twitter or subscribe to the RSS feed.