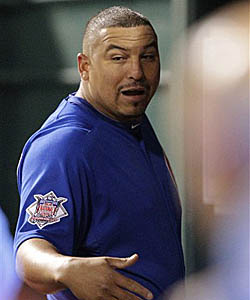 By Matt Snyder
Things were going pretty well for the
Cubs
through 5 1/2 innings Monday night in Cincinnati.
Carlos Pena
had just hit a two-run home run -- his fourth in the past 11 games -- to put the Cubs on top 4-0. Starting pitcher
Carlos Zambrano
had only allowed one hit through his five shutout innings and really only needed to get through one more before handing the ball to
Sean Marshall
,
Kerry Wood
and
Carlos Marmol
.
Instead, things came unraveled. The
Reds
tagged the Cubs for a seven-spot in the sixth, en route to a 7-4 victory. After the game, Cubs manager Mike Quade reportedly let loose on his ballclub behind closed doors before seeing the media and venting his frustration.
"That was embarrassing and that [expletive] has got to stop," he said.
"Nothing's [expletive] easy up here. We're not good enough to coast at all in any aspect of the game," he continued. (
CSNChicago.com
via Twitter)
Quade also reportedly noted that he was including himself and that everyone needed to get better.
For whatever it's worth, Quade's tirade didn't seem to fall on deaf ears.
Marlon Byrd
told reporters he was sick of it and he starts with himself in terms of where improvement is needed. Zambrano also took the full burden of the blame.
"It was all my fault ... disappointed in myself," he said, also adding that he was sad to have let down his teammates. (
Paul Sullivan
via Twitter)
In the sixth inning, there were a number of factors that contributed to the Reds' seven runs. Zambrano walked
Edgar Renteria
with one on and
Joey Votto
on deck.
Alfonso Soriano
was nothing short of a debacle as he backpedaled on
Scott Rolen
's game-tying, RBI double (I'm not sure he could have caught it, but an average left fielder would have).
Marcos Mateo
threw a wild pitch on his first offering and it allowed
Jay Bruce
to score the Reds' go-ahead run. Mateo then gave
Jonny Gomes
a fastball on a silver platter that resulted in a two-run homer. Defensively, things could have been sharper from
Aramis Ramirez
and
Kosuke Fukudome
on separate occasions.
It was reported Quade was angry about "baserunning, defense and third base coach Ivan DeJesus' decision-making." (
Chicago Tribune
)
Quade and the Cubs could also be upset about back-to-back strikeouts by Soriano and Byrd to end the first inning after
Homer Bailey
had walked the bases loaded.
In related news, struggling outfielder
Tyler Colvin
has been optioned to Triple-A, which is absolutely the correct move. He's been awful at the plate this season (.113 with a .449 OPS) after a bit of a breakout last season (20 HRs in 358 at-bats), so he's in need of everyday at-bats to work through his issues.
The Cubs are 17-22 and six games out of first place in the NL Central.
For more baseball news, rumors and analysis, follow @cbssportsmlb on Twitter or subscribe to the RSS feed.