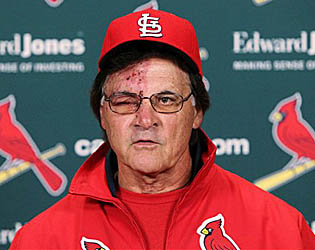 By Matt Snyder
After a week-long absence due to shingles around his right eye,
Cardinals
manager Tony La Russa is returning to the dugout Monday night.
"Everything's better," La Russa said before the Cardinals began a four-game homestand with the first of two games against Philadelphia. "I'm just going to take the improvement, keep going and quit talking about it."
La Russa is feeling better, reportedly due to some pain medication he's been using.
"I just wish I'd taken pain medicine," La Russa said. "I went through all that agony for nothing."
Just in case anyone was wondering, he's at least feeling well enough to tinker with his lineup.
Albert Pujols
will get the start at third base, reportedly at his own request (
StLToday.com
), a position he played two innings one game earlier this season but otherwise hasn't appeared since 2002. His last start at third was September 23, 2002.
The move enables La Russa to use
Nick Punto
at second base and
Lance Berkman
at first -- where the two are best suited -- while
Allen Craig
will man right field and John Jay plays center.
Some of the movement has been caused by the Cardinals' bad defense, others due to injuries.
David Freese
is on the disabled list, so third base is a makeshift situation. Rasmus is absent from the lineup for the second straight day.
The issue with Rasmus bears watching. He tweaked his abdomen last Monday lifting weights and the pain has reportedly increased since then, forcing him to sit out Sunday and then again Monday evening. He's had an ultrasound as the team doctors attempt to gather more information on what ails him. (
Derrick Gould
via Twitter)
Rasmus is hitting .305 with three home runs, 15 RBI and an NL-best 31 runs scored.
The Cardinals are 22-19 on the year and trail the
Reds
by 1 1/2 games in the NL Central after being swept in three games at Cincinnati.
For more baseball news, rumors and analysis, follow @cbssportsmlb on Twitter or subscribe to the RSS feed.