By Evan Brunell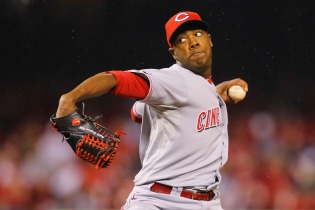 Aroldis Chapman
has hit the disabled list with left shoulder inflammation.
Also known as "suckitude." OK, maybe he really does have inflammation, but there's been zero hint of any injury as no one has spoken about it. Oftentimes, when a player is pitching as bad as this and there are little available options, phantom injuries are created to land him on the DL. Yes, the
Reds
are skirting the rules, but every team does it and it's really nothing to get worked up about.
Chapman walked a dizzying four batters while registering just one out in Sunday's game. Over the last four games hearkening back to April 30, Chapman has walked 12 in 1 1/3 innings, failing to register an out twice. He's coughed up just two hits in that span, but it's awfully hard to hit what's not crossing the plate. His three strikeouts in his span all came on the 30th, so he's been especially awful the last three times out.
Pitching coach Bryan Price spoke about Chapman to
FOX Sports' Ken Rosenthal
earlier, mentioning that a demotion to Triple-A wasn't exactly as easy as it sounded, as many have wondered why he can't just be optioned out.
"Nobody here wants to send this kid down for a multitude of reasons," Price says. "You have to look at the pros and cons of what the emotional response would be. You're not dealing with a kid who has been in this country and understands player development.
"There is more than meets the eye here, has been from the inception. This kid has some huge hurdles to get over. Everyone is going to have their opinions. But it's not as easy to put together as people might think."
As for what's wrong with Chapman, manager Dusty Baker told MLB.com that "we just have to figure out what's wrong with Chapman. You've got to work and that's what he's been doing. He's working before the game with Bryan [Price], trying to find his release point. He was wild high before and now he's wild low. It seems like everything is cutting. We just have to go back and try to figure out what we're going to do at this point. We don't know."
The Reds recalled righty Jordan Smith to take Chapman's place. Smith was optioned to the minors a little over a week ago after posting a 5.29 ERA in 17 innings.
For more baseball news, rumors and analysis, follow @cbssportsmlb on Twitter or subscribe to the RSS feed.