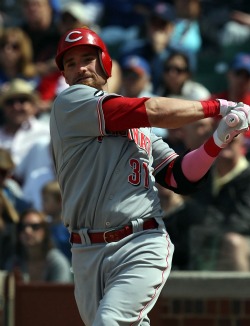 By Evan Brunell
Jonny Gomes
started 2010 as a starter, the first time he had done so all year.
While Gomes (pictured) had grabbed 540 plate appearances last season, he hadn't begun the year as starter and needed some time to get near-full playing time. The left fielder has always raked lefties but manager Dusty Baker has felt confident in his abilities to hit righties, even though his numbers last season weren't all that great.
They've worsened this year despite his continued raking of lefties, giving him an overall line of .186/.329/.389 in 140 PA.
"I thought Jonny might be ready to play against everybody," Baker told
MLB.com
. "Maybe that's not the case yet. I just have to pick and choose who I try to play guys against."
Now, Baker says left field will start being a platoon between Gomes,
Fred Lewis
and
Chris Heisey
.
"That's part of my job is to match guys up in a situation where they're most likely to succeed, to match guys' strokes against guys I think they'll probably hit good," added Baker. "Some guys are fastball hitters. Some guys are low-ball hitters, high-ball hitters."
Joining Gomes in left is Lewis, who came over from the
Blue Jays
as a free agent but missed time due to injury and 15 games worth of rehab in the minors. He's played rather sparingly since joining Cincinnati in a bench role, but that will start changing. His calling card is his speed, as he swiped 17 bases last season for Toronto in 110 games. It's likely with a full season of playing time he could reach 30 and was held back last year by manager Cito Gaston, who elected not to pursue an aggressive running game.
"Right now, Freddie is in a situation where we're trying to figure out when to use Freddie, against whom and give him the best chance and us the best chance," Baker said. "Same with Heisey."
For his part, Heisey has been impressive in limited duty. The 26-year-old knocked eight home runs in 226 PA last season, hitting .254/.324/.433. He's been even better this year with a .263/.338/.509 line through 65 PA and four home runs. Baker doesn't feel as if Heisey is quite ready for prime time just yet, but it would come as no surprise if he eventually emerged as the starter, both in 2011 and long-term. For now, though, he's stuck in a three-way platoon.
"There was a point when everybody wanted Jonny Gomes to play every day. There was a point when everybody wanted
Laynce Nix
(now with the
Nationals
, who is wresting the left field job away from Mike Morse) to play every day. There was a point when everybody wanted Heisey to play every day," Baker explained. "Those guys are more matchup guys, in my mind, at this point in their careers rather than every day guys."
For more baseball news, rumors and analysis, follow @cbssportsmlb on Twitter or subscribe to the RSS feed.